Being a personal finance blogger, when it comes to choosing a credit card I look at which ones will provide me with the greatest advantage. The amount of cash back, what rewards I can receive and what services the credit card provides at no cost – all of which will ultimately save me money – are the primary factors look for when choosing a credit card. 
This is not how a Hello Kitty fanatic chooses a credit card:
wife: I have to have this credit card!
me: You already have a credit card that gives you cash back on every purchase.
wife: But it doesn't have Hello Kitty on it.
me: What is more important? Getting money back on every purchase or Hello Kitty? (boy, was that a stupid question for me to ask…)
wife: Hello Kitty
So, my wife immediately applied for the Hello Kitty MBNA credit card. The worst part? In the past I was constantly asking her to pay for everything with our cash back credit card to earn the free money, but rarely did she use it preferring to pay in cash (the Hello Kitty card does earn points, but the rewards are far less than our other card). Now that she has the Hello Kitty credit card, every single purchase goes on it. In fact, I wouldn't be surprised if she has started to buy things just to show everyone her Hello Kitty credit card.
While this certainly qualifies as Hello Kitty Hell, I have a much bigger worry. What if they come out with multiple patterns of the Hello Kitty credit card?
Update: Was there ever any doubt that Hello Kitty credit cards would end up coming out in a multitude of patterns?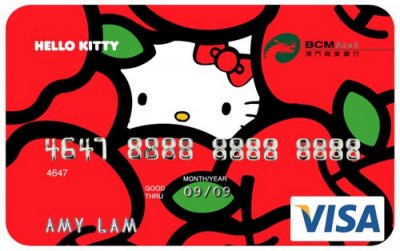 Sent in my numerous readers