It's already been well established that Hello Kitty fanatics are, to put it diplomatically, fanatical. In being so, they go far beyond what most of us normal people would consider, for lack of a better word, sane. Usually this merely means buying lots of useless Hello Kitty crap, but apparently some are willing to go to painful lengths for the evil feline: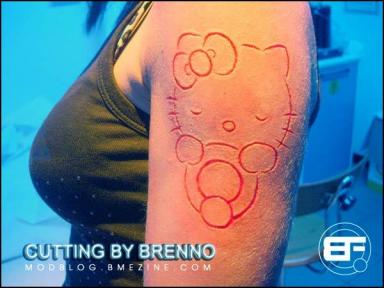 Of course, I have fallen once again into the classic Hello Kitty Hell trap of believing that it couldn't get any worse than the Hello Kitty tattoos for body modification. I never learn…it always gets worse. Apparently true Hello Kitty devotion means splitting you skin open to permanently scar Hello Kitty's image into your skin. Again, I hope this person really wanted Hello Mimmy (Hello Kitty's sister) and not Hello Kitty on her arm (it still bothers me that I know the difference) because it doesn't look like those scars will be coming off once the cuts have healed…
Sent in by Morgan (via modblog) who should have to suffer the same treatment for thinking it was – in any way, shape or form – a good idea to bring this to my attention.