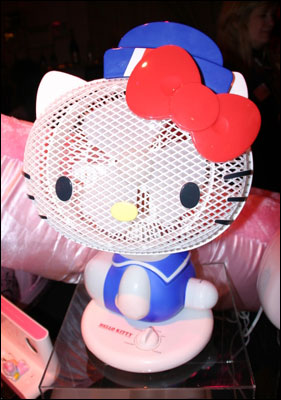 Okay, I admit it. I'm keeping score and the initial score isn't looking good. When I started Hello Kitty Hell, I thought a bit about how people might react to it. I figured it would give me a release to the Hello Kitty Hell I dwell within, provide a few laughs for those on the outside and possibly get me some sympathy for my plight. What I didn't predict was that I would begin a fan base for my wife.
That's right. This blog has produced 7 fan letters to my wife telling her how much they love her store and how they wish they were as lucky as she is to be able to live with so many Hello Kitties around. All I've received is a Hello Kitty devil icon and photos of Hello Kitty items that people want me to show to my wife just to clamp down the torture chamber devices that much more. This is what I found in my email box this morning:
I just totally adore Hello Kitty. She is the cutest. And she is such a great teacher! I especially love the ones that wink or are sleepy. I collect those and I'm so jealous of all the Hello Kitty plush you have. You are so lucky. I'd be in heaven with only a tenth of the things that you have.When I'm sad or feeling bad, I have a large Hello Kitty plush that comforts me. She knows my heart like nobody else does. She just listens and lets all my tears flow away. And when I'm happy, her face is always bright and happy…
Not to pigeon hole Hello Kitty fanatics as not having a full set upstairs, but you might want to rethink some things if you consider an animation character of a cat your "teacher." I could also go on about how Hello Kitty "…just listens and lets my tears flow away" (hmmmm, could it possibly be because she's not real so she can't talk, or if you happen to believe she is real, she still doesn't have a mouth?), but I will restrain myself (sort of;).
Of course, my wife sees these letters in a totally different light. She reads the same lines and says stuff to me like, "oh, how cute. She knows the heart of Hello Kitty" and "She can see the true Hello Kitty, unlike you."
In addition to having more excuses to expound upon the virtues of Hello Kitty, my wife also finds extreme humor in all of this. She even went so far as to introduce me to one of her friends as " my Hello Kitty fan promoter" the other day. Of all the courses that this writing venture would take, building a Hello Kitty fan base for my wife was definitely not one that came to mind…and so even when I try to ridicule Hello Kitty and her fans, the coals in the fires of Hello Kitty Hell get some extra fuel poured onto them to keep the place plenty hot…