You know it's going to be a bad day in Hello Kitty Hell when you hear the words, "Honey, do you want to see the new thing I got in the mail?" This is because you have already fallen into a trap from where there is no escape. Even though there is absolutely no intrigue in the question – I already know that it is going to be something Hello Kitty and it is going to be something bad – I have to act excited, but of course, not too excited. If I don't act excited, then my lack of appreciation will get me in trouble, but if I act too excited, then she knows I'm faking enthusiasm and I will get into trouble. Ahhh, the thin line I have to tight rope along living in Hello Kitty Hell (which I must say, I have well perfected).
The problem with today was that it went on beyond the initial "look at this" and I was actually asked for my opinion. This part of Hello Kitty Hell I still haven't perfected and almost always results with me taking out the Hello Kitty sleeping bag.
Of course I didn't get the answer right (note to self: "whichever you like best" won't cut it in Hello Kitty Hell — when answering any question related to which Hello Kitty item I like best, remember the correct answer is "all of them" according to my wife) and paid the Hello Kitty Hell price…
Update: You actually thought that more of this hideousness wouldn't be produced?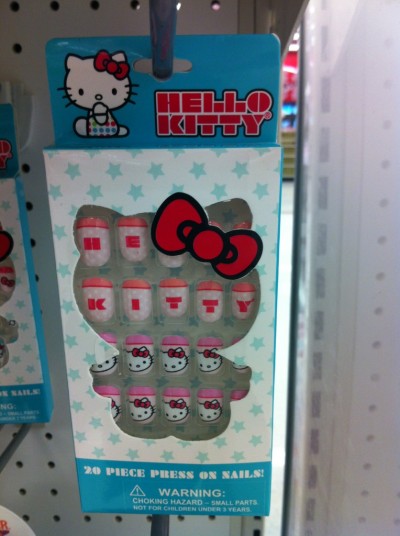 Sent in by Jen