Yet another company sells its soul to the evil feline and Hello Kitty continues her quest to Hello Kittify every form of transportation possible with a marketing deal that will have Razor produce Hello Kitty razors in the near future: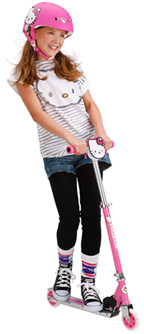 This news is quite depressing to me because I have been thinking of getting a Razor for short distance transportation around Japan. My wife knows this and hasn't been all that enthusiastic about it ("it's something that only kids use") when I mentioned it the past, but she has abruptly changed her mind (imagine that…) with the news that Razor will be making Hello Kitty models in the coming months. In fact, she has gone so far to suggest that we could share one or even get a matching pair which would make a wonderful gift for each of us (I can already tell that this Christmas is not going to be good).
I'm pretty damn sure that a 6′ 3″ foreigner riding around on a Hello Kitty razor in Japan would quickly land me in jail as a thief of young girl's toys. When I tried to explain that the Hello Kitty razor was actually mine, they would undoubtedly extend my stay in the cell for being mentally unstable if they could not designate it as some other type of illegal activity. All I know is that no matter what eventually happens, it's not going to be good and will likely increase the heat in Hello Kitty Hell…
Sent in by trinity who should have to travel by only Hello Kitty razor for the rest of her life as punishment for sending this photo and news to me and giving my wife the horrific idea that the Hello Kitty razor would be a good thing for me…
Update: Apparently a push Hello Kitty Razor wasn't enough and the people at Sanrio deemed against all logic and humanity that the world also needed an electric Hello Kitty Razor scooter as well (and it will only put you back $150).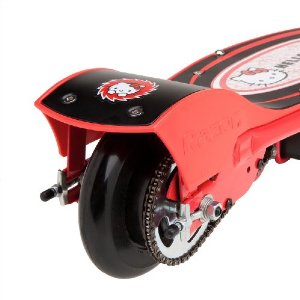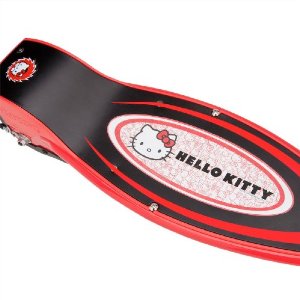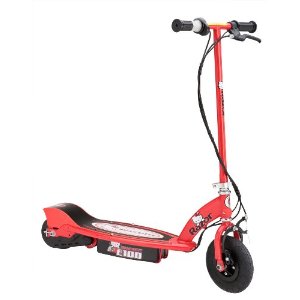 Sent in by Amy (via Amazon
)