First, the posts and updates that happened this past week that weren't mentioned on the front page:
Hello Kitty Girl Mike Carroll Skateboard Decks
Hello Kitty Assault Rifle (update)
Hello Kitty Schoolgirl
Hello Kitty LCD TV (update)
And now onto the contest…
I have been able to breathe a sigh of relief because the Hello Kitty toaster and both the pink and black Hello Kitty "shoulder massagers" are on their way to new homes that are — and this is quite significant — not where I live.
Of all the things that came in the unwanted, creepy Hello Kitty package that turned out not to be so creepy, the only one that I don't think that my wife has in her collection is the Hello Kitty optical mouse and mousepad: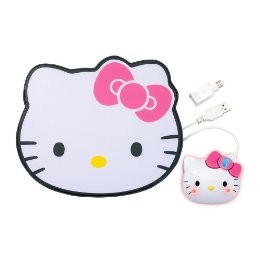 That is not to say that she doesn't have Hello Kitty mice and mouse pads – she has plenty of both to the point where she has even purchased me one for Xmas a couple of years ago – I just don't think she has this particular pattern.
This fact makes this giveaway a bit riskier than the others since there is no way of knowing how my wife will react when she finds out, but this has not lessened my determination to make sure that the contents of that box don't end up in my wife's collection (especially since the cheeks on the mouse supposedly light up. I don't want to have to spend a month listening to how cute and adorable that is every time my wife uses the computer).
Entry into this contest is going to be a bit different than just leaving a comment and will help me clean up this blog at the same time. If you have been following this blog for any amount of time, you will know that my posts often have many spelling and grammatical mistakes in them. While I'd love to lay the full blame of this on the evil feline (and part of this is true because I don't feel like spending any more time on this blog than is necessary to get the next inexplicable Hello Kittified item up), the other is that I simply suck at writing.
For this contest, find a spelling or grammatical mistake in any post (not comments since I didn't write those) and point it out to enter the contest. Your post should have the following 3 bits of information:
1. The url of the page that has the mistake
2. The paragraph (1st, 2nd, 3rd, etc.) in the post that has the mistake
3. The correction of the mistake
For every mistake that you find, you get one entry into the contest. You may enter as many times as you like. If you find more than one mistake on a post, be sure to list each one separately as a comment so that you get an entry for each. The more mistakes you point out to me, the better your chance to win. I know there are hundreds of mistakes in this blog so there are plenty of chances to enter.
I will have a random number generated for all the comments left below. The person's comment that matches the number will receive the mouse and mouse pad, which will be sent out by my parents.
The contest starts now and will end at 11:59 pm eastern (10:59 pm central, 9:59 pm mountain and 8:59 pm pacific) on Friday November 20th so there is plenty of time to look around and find the errors. Open to anyone living anywhere in the world except at my address in Japan.
Update: This contest is officially over and mhkitty summed it up rather nicely: "
Man, you just opened the floodgates of hell upon yourself! Only thing worse than a crazed hello kitty fan is a crazed hello kitty fan who thinks they know it all about grammar and spelling!
I have learned my lesson. The random number generated was 283
making SexieBexie the winner. Congratulations.