One would assume that it would be difficult to make anything worse than the Hello Kitty head that has tormented cats (even dead ones), dogs (including those doubly unfortunate enough to belong to Perez Hilton), babies and those related to fanatics who somehow feel this is cute. On a similar note, it would seem nearly impossible to make your hair worse than by doing a Lady Gaga and shaping it into a giant bow. Of course, this would be highly underestimating the evil feline and her great ability to take two terrible ideas and meld them together to make something far worse. Case in point, I introduce the Hello Kitty wig: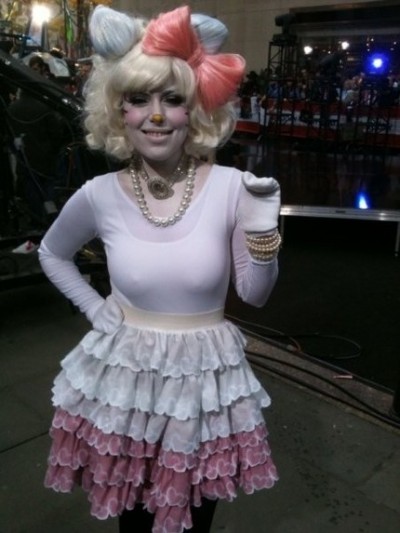 For some unfathomable reason, my wife thinks that this is adorable and would be fun to wear around. Something about being able to wear your hair as Hello Kitty on a daily basis or something like that, but to tell the truth, I'm not sure exactly what she was saying because as soon as I heard the word "adorable," I immediately tuned out everything she said. I knew my head would explode in excruciating pain if I actually had to hear somebody explaining how this could be cute, and my self preservation instinct kicked in.
So my wife does have a reason, but I hope I never find out what it actually is. Then again, the fear that she might spontaneously decide to tell me again when my defenses are down pretty much ensures more Hello Kitty Hell…
Sent in by Lynn (via princessdelacoiffure) who should have to listen to my wife explain exactly why she finds it adorable again and again until she grows tired of doing so (never) as punishment for ever thinking that sending this photo to me could result in anything positive.
Update: Once again, Hello Kitty proves that she can never leave a terrible idea alone:
Sent in by Deena