When it comes to Hello Kitty Hell, the question is who has it the worst. Obviously, everyone and everything that has contact with the Hello Kitty fanatic has to endure their own form of Hello Kitty Hell. While I maintain that it is the significant others of the Hello Kitty fanatic that have it the worst (still doubt?), the dogs and cats of the Hello Kitty fanatic certainly have a valid claim as well. Add the kids of Hello Kitty fanatics to the mix: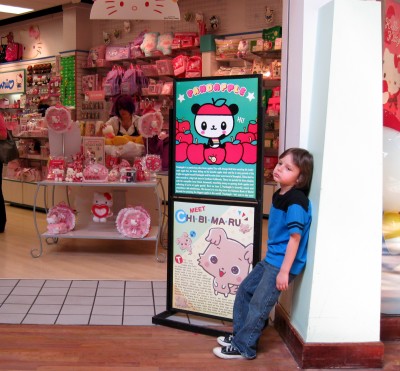 You have to feel for this kid and I know I have worn that expression more times than I would care to remember. The worst part is this is what everyday becomes if you are forced to go shopping with a Hello Kitty fanatic because you know they will go into every store that has a supply of the evil feline.
Of course, my wife contends that any child of hers will never feel this way because they will thoroughly and completely love Hello Kitty — which may have convinced me that Hello Kitty condoms are not such a bad idea after all….
Sent in by Nicole who I would wish terrible punishment upon, but have a feeling that her son will provide much worse than I can ever imagine in his later years as revenge for her doing this to him…
Update: Then there are the Hello Kitty fanatics that drag their kids to Hello Kitty events and bribe them to pose for a photo in Hello Kitty hot air balloons so that they will be mercilessly teased for the rest of their lives all because the Hello Kitty fanatic thinks it it "cute"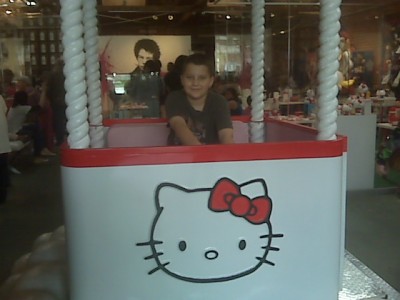 Sent in by dodgerfan1976 who will also undoubtedly pay the price when her kid realizes exactly what his mom did to him…