Maybe there is an angel looking over me in Hello Kitty Hell (oh boy, is that wishful thinking…) – at least these Hello Kitty Pop Tarts
weren't ever spotted at our local grocery store while we were back in the US.
If they had been, I probably would have had to eat pop tarts for three meals a day. Somehow, Hello Kitty and Pop Tarts seem to go together well – sickeningly sweet and not at all good for you.
Thinking about it a bit more, those may not have been all that bad compared to what may be in store for me…there are far more Hello Kitty foods in Japan that I will be tortured with now that we are back as you will see (probably to your amusement, but to my chagrin). Worse, the Hello Kitty Pop Tarts aren't really out of reach of my wife – she'll probably order some once she reads this since they are available online…
**Thanks (I think) to Amaranthim who left a link in the comments
Update: Not a pretty sight: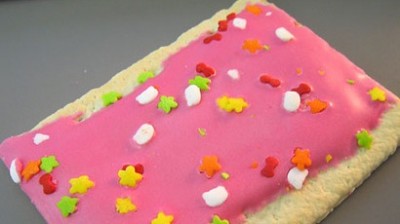 Sent in by Julia