When I wrote about Hello Kitty Rice Wine (sake) a bit ago, you knew that if they made rice wine, they must make regular Hello Kitty wine. We found it at a local store today and of course my wife needed to get a bottle to display with the sake:
I learned my lesson from the last experience and submitted to not being able to drink it (which actually is probably a good idea – I'm not sure that drinking Hello Kitty wine is something that anyone should do during their lifetime…even with its hefty $25 a bottle price tag, something tells me it will taste more like syrup than wine. Something like liquid Hello Kitty pop tarts.
It seems like a fitting purchase for Hello Kitty Hell. Something way overpriced that I will have no chance of ever drinking, but then again, probably thankful that I never had the chance to drink it. So I pay $25 for something that I am actually thankful that I can't ever consume – that is pure Hello Kitty Hell logic.
Update: Apparently Hello Kitty wine has become popular enough to now come in different varieties – of course, I still can't consume any of them…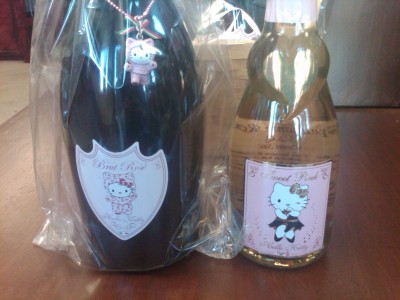 And (unfortunately) the varieties keep coming:
Sent in by far too many readers via lv weekly
Stephen Colbert weighs in on Hello Kitty wine:
The Colbert Report
Mon – Thurs 11:30pm / 10:30c
Tip/Wag – Hello Kitty Wine & Pig's Blood Filters