Old nightmares are coming back to haunt me now that we have returned to Japan. I mentioned awhile back that my wife was thinking about getting a Hello Kitty scooter for errands around the house, but that potentially disastrous Hello Kitty Hell situation was forgotten when we moved to the US. Now that we're back in Japan, the Hello Kitty scooter nightmare is once again coming closer to reality. I didn't realize how close, however, until a package arrived in the mail today,
Although we don't have a scooter yet, we do have a brand new shiny Hello Kitty scooter helmet:
Having lived in Hello Kitty Hell as long as I have, I expect things to be bad to some degree. The thought of riding a Hello Kitty scooter is just downright embarrassing, but to be wearing a Hello Kitty Helmet on top of that is a shame that pretty much ranks up there with the worst Hello Kitty Hell has had to offer thus far (although I never underestimate that there is something Hello Kitty out there that could make it worse). With the Helmet already purchased, it's only a matter of time before that scooter ends up outside our place and Hello Kitty Hell will reach yet another whole new level…
Update: You thought there would just be one?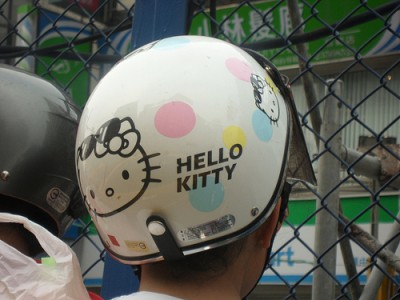 Sent in by weistar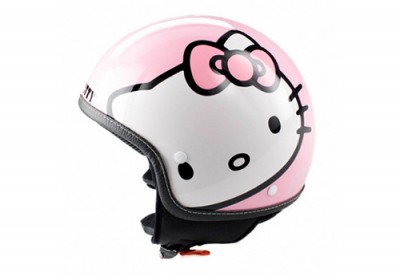 Sent in by clara