Only in Hello Kitty Hell can a man be sent to the couch for the night for using the wrong toilet paper. Now, if you are in the bathroom and you finish up only to find that there is no toilet paper on the toilet paper roll, what do you do? All normal people (ie not Hello Kitty fanatics) reach for a new roll of toilet paper and that is the end of the issue, but I knew that things weren't going to be quite that easy as soon as I realized that the only toilet paper I could find was Hello Kitty toilet paper.
While the rest of the world views toilet paper as just that, Hello Kitty fanatics view toilet paper as a display item. So I sat on the toilet pondering my predicament. I had two choices: 1) I could open the bathroom door, hobble down the hallway with my pants at my ankles desperately trying to salvage any dignity I had by covering up the best I could until I got to the storage closet where I knew we had non Hello Kitty toilet paper. I would then grab a roll, hobble back with my pants still around my ankles until I reached the bathroom where I could finally wipe myself properly. 2) I could grab a roll of Hello Kitty toilet paper right next to me, use it without losing any dignity, but have to face the Hello Kitty Hell wrath for actually using a Hello Kitty product the way it was supposed to be used.
For any regular person, the obvious choice is quick and simple, but not so in Hello Kitty Hell. 5 minutes, 10 minutes, 15 minutes, 20 minutes passed with me still debating which was the lesser of two evils: humiliation & embarrassment or facing the wrath of a Hello Kitty fanatic. The tables were tipping in favor of the walk down the hall and I even opened the bathroom door, but realizing it was the dead of winter and there was no heating in the hallway, the tables quickly tipped back toward the Hello Kitty toilet paper. I must admit it took quite a bit of courage for me to finally decide that Hello Kitty toilet paper was going to be the choice (urged on by the fact that after 20 minutes of debating the issue, certain areas were beginning to crust…well, let's just leave those gory details to your imagination…)
Now even the choice of Hello Kitty toilet paper didn't free me to wipe away. I then had to choose which of the 4 patterns of Hello Kitty toilet paper we had I was going to use. Would it be the 1974 Hello Kitty Design:
The 1977 Hello Kitty Design:
The Berry / Flower Wreath Winking Hello Kitty Design:
The Tropical Flower Hello Kitty Design:
This was far from an easy decision due to the fact that all the patterns came in pairs and the use of one would certainly unbalance the display. It took another 10 minutes before I came up with my brilliant idea: I would carefully open the Hello Kitty toilet paper, use a few sheets and then re-wrap it. Nobody would ever know, I'd keep my dignity and wouldn't freeze my butt off (literally) and there would be no Hello Kitty fanatic wrath to face. Perfect…except…
I put my plan into motion and it worked perfectly. I congratulated myself for insightful thinking in an extremely delicate Hello Kitty Hell situation. I was still self-congratulating myself when:
wife: "Honnnney…"
me: "…" (thinking that doesn't sound like the good "honey" but like the "You did something terrible honey")
wife: "Honnnney, can you come here a minute…"
me: "Yes dear." (thinking uh-oh, this is not going to be good)
wife: (looking into the bathroom) "There is something not quite right here…"
me: "Everything looks fine to me." (thinking "woohoo, she can't figure it out")
wife: "Why is the Hello Kitty toilet paper out of order?"
me: "…" (thinking WTF??? Hello Kitty toilet paper has an order???)
wife: "They should all be in the order of their release. Why is the 1977 style Hello Kitty toilet paper placed before the 1974 style Hello Kitty toilet paper?"
me: (quick thinking) "Oh. I'm sorry. I accidentally bumped the shelf and they fell down and I just placed them back up." (thinking "order??? why does everything Hello Kitty have to have an order???)
wife: (sighs) "You need to be more careful. You know that Hello kitty is precious." (shakes her head as if talking to a 6 year old)
Then it happened. The instant she touched the roll that I had used, she knew. I still don't understand what power Hello Kitty fanatics have that can make them instantly know that 5 squares off a full roll of toilet paper are missing just by the feel of the roll, but they can…and that is when the "you're on the couch in the Hello Kitty sleeping bag" look came (I'd try to describe this look, but it would be useless. Think back to when you were a little kid and you did something that made your parents so mad that they couldn't even speak. Multiply this by 1000 and you begin to see the tip of the iceberg on the "you're on the couch in the Hello Kitty sleeping bag" look).
I must admit that I did get a bit of satisfaction out of being sent to the couch which is a rarity in Hello Kitty Hell. While a brief and fleeting moment, Hello Kitty got to see what I live with 24 / 7 when I took those 5 sheets of toilet paper and used them as they should properly be used…I should have used more.
Update: It should come as no surprise that the evil feline continues to come out with toilet paper in her image: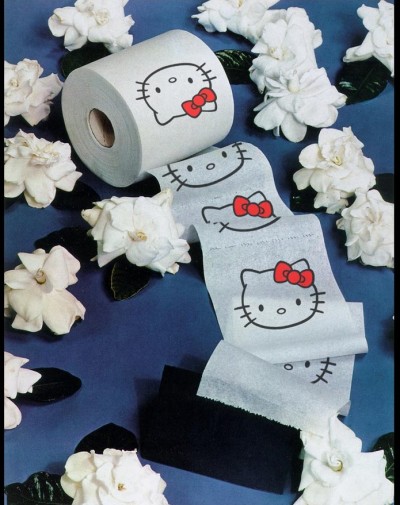 Sent in by ratbite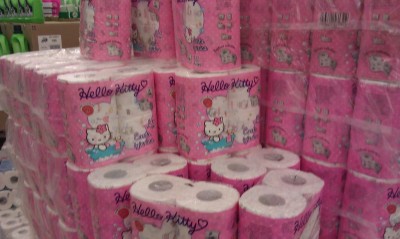 Sent in by Nat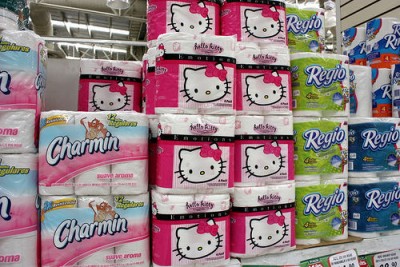 Sent in by Ashlin