Hello Kitty tattoos were bad. The Hello Kitty Star Wars tattoo took things to a whole new level. The Hello Kitty batman tattoo topped even those so this latest Hello Kitty tattoo seems horrifyingly appropriate for Hello Kitty Hell:
This was accompanied by the following email:
First off, I am a HUGE hello kitty fan and love her do death.

I also love zombies so I thought it was the perfect match.

Anthony from Yankee Tattoo in Burlington, Vermont did this on Wednesday and I just wanted to share it with you.
There are so many things completely wrong with the tattoo and email that I don't even know where to begin, but since I have to begin somewhere, it distresses me to no end that more and more of the Hello Kitty emails I get no longer ask me to show a photo to my wife, but are being written specifically to me. It is beyond my comprehension why Hello Kitty fanatics feel the urge "to share it with me" knowing that all I'm going to do is ridicule it because that is what I do in this blog — ridicule all things Hello Kitty.
It seems that even for Hello Kitty fans, Hello Kitty is no longer enough and the hybrid Hello Kitty is the tattoo of choice. Why anyone would want to mix Hello Kitty with anything other than possibly a barrel of dynamite is way beyond my comprehension, but apparently Hello Kitty fanatics, in their Hello Kitty daze (which coincidentally has the remarkable resemblance of a zombie stare), feel that a Hello Kitty zombie is cute.
wife: "See, even the dead are cute when they let Hello Kitty into their hearts."
I keep hoping that I will find some redeeming quality about living in Hello Kitty Hell and day after day, I'm shown that not only is there nothing that comes close to being redeeming, but what I imagine is the worst that Hello Kitty Hell can get is only a preview of things to come…
Thanks to Erika who really should have to live with Hello Kitty zombies for even thinking that sending me this photo would be a good idea…
Update: Because there always have to be more than one Hello Kitty zombie tattoo: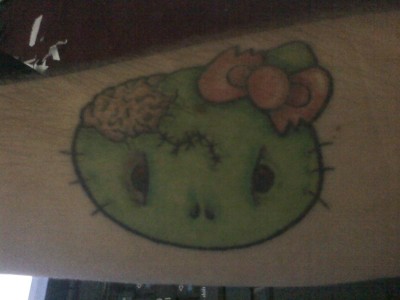 Sent in by Patrick
Apparently Hello Kitty zombie likes hearts just as much as brains: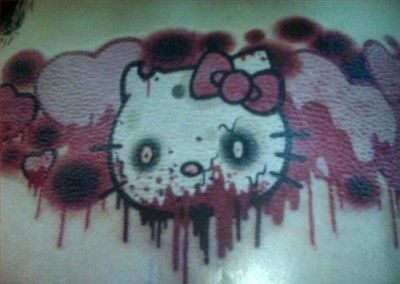 Sent in by numerous readers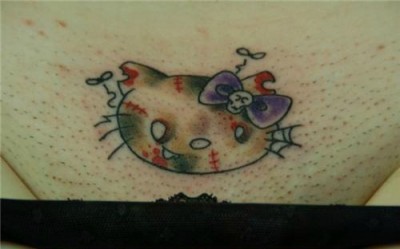 First sent in by Ray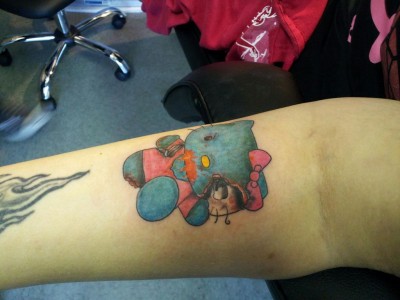 Sent in by ruthven78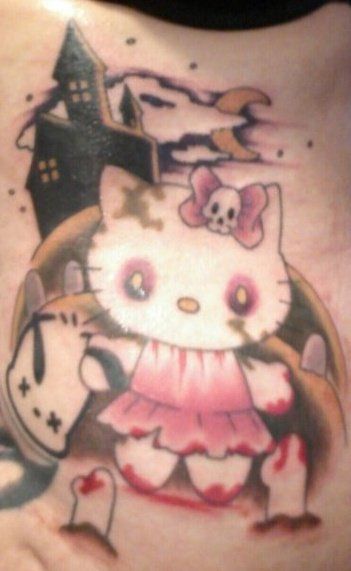 Sent in by Maria