In the never ending quest to be everywhere, Hello Kitty invades places that she should never be. How else can you explain the Hello Kitty World of Warcraft personalised interface: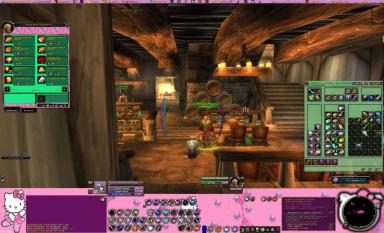 For those unfamiliar, World of Warcraft (WoW) is an online game where people going around killing anything and everything. Obviously, there are players that believe that adopting a Hello Kitty theme will give them the added advantage they need to spread destruction and misery throughout the world. Hmmmm, on second thought, maybe it isn't such a bad fit for Hello Kitty after all…
Sent in by Kate who should have to not only use this theme when she plays the game, but also listen to the Hello Kitty theme song the entire time for thinking that showing this to me could ever be a good idea.