I have come to the conclusion that one of the most important skill sets when you live in Hello Kitty Hell is to learn how to keep your mouth shut on things you need and buy them yourself. While I have become quite good at this over the years, every once in awhile I slip up with horrifying results. May I introduce you to the Hello Kitty paper shredder: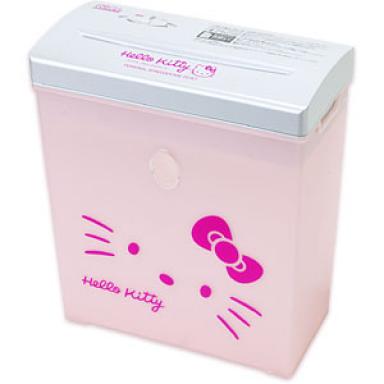 It is almost always the office that gets me in trouble with slips of what I need. I mean, seriously, who in their right mind would ever get office equipment that has been Hello Kittified? But apparently there are enough Hello Kitty fanatics out there to make it worthwhile to Hello Kittify even the most mundane office supplies.
Thus after making an offhanded comment last week that we really needed to get a paper shredder one of these days, the Hello Kitty paper shredder was waiting for me in my office when I came back from an errand. Of course, my wife was smiling from ear to ear anxiously waiting to see what I thought of it. "Isn't it the cutest thing ever? Hello Kitty will help protect us from identity thieves." (I manged to mumble something that satisfied her enough that it kept me out of the Hello Kitty sleeping bag)
While there is something wrong with every Hello Kitty item, there is just something downright wrong with having a Hello Kitty paper shredder. Every time I go to shred something, I get this overwhelming fear that the shredder is going to bounce up and catch hold of my hand or a piece of my clothing because you know if it was a movie, it would be the "cute" Hello Kitty shredder that ends up maiming and mutilating everyone.
I had a friend stop by who saw the thing and he just stood there shaking his head. A couple hours later I get a call with him laughing so hard he can't stop: "Every time I walk by the shredder at work, I think of that thing you have and start laughing. It's so sad that it's hilarious…" (with more uncontrollable laughter)
Which I think is a pretty good summary of Hello Kitty Hell now that I think about it…