Oh, the irony. For anyone who thought that Hello Kitty wasn't first and foremost out to make a buck, the following newly released item should put that to rest. Many of you know that there was a Hello Kitty vibrator
that was made about 10 years back, but had been discontinued. Most people are aware of the history of the shoulder massagers, but in case you aren't, here are the basics: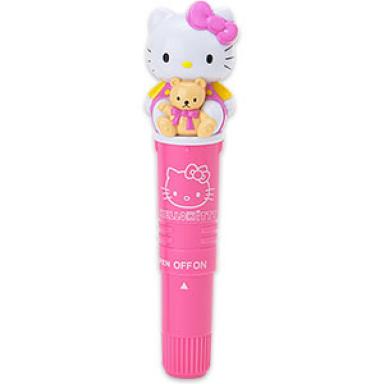 It all started back in 1997 when Sanrio gave a license to Genyo Co. to make a number of different Hello Kitty products. They produced all different types of products and one that was approved was a Hello Kitty shoulder massager. This was sent out to gift shops, restaurant chains, and other knick-knack stores and was truly sold as a shoulder massager around Japan initially.
It wasn't long, however, that some people decided to use the shoulder massagers to massage other areas besides their shoulders. The Hello Kitty shoulder massagers that were being sold at the store down the street began to show up in adult movies. Soon they were also being sold in adult video shops and the sales of the product skyrocketed. Eventually it made its way online to be sold internationally as a "must have" sex toy.
When Sanrio found out that the shoulder massager was being sold as a sex toy, they claimed to be disgusted, especially since the Sanrio name and Hello Kitty character were on it. They immediately contacted Genyo Co. and asked them to stop. The Hello Kitty vibrator had at this point gained cult status and was selling like hotcakes and Genyo Co. had no intention of letting a hugely profitable product be taken off the shelf just because people were using it to stimulate other parts than intended. Sanrio tried to revoke Genyo's licensing rights, but Genyo refused saying they had a valid license that had been approved and had spent much money developing the product.
The fight between the two companies continued until Genyo Co.'s top officials found themselves in tax trouble for some shady business dealings they were involved with. This gave Sanrio the reason they needed to revoke the license and Sanrio took the "shoulder massagers" off the market. The shoulder massagers that were still in outlets were soon bought up and sold as collector items sometimes reaching over $100 on eBay.
Since Sanrio was supposedly so disgusted and enraged by this "shoulder massager," you can imagine my surprise when I received an email letting me know that they have revived it – selling it for just over $10 (1260 yen) in the Sanrio Japanese online store:
Oh, but it gets even better. Not satisfied to come out with only the same thing they had in the past, it now is also available in black: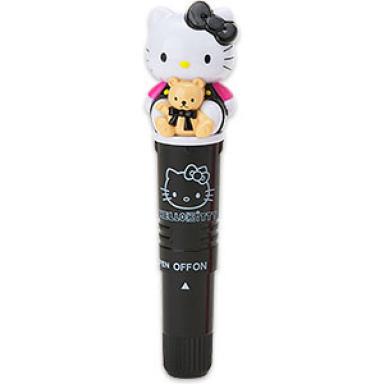 This development of the "shoulder massager" being sold again is especially disturbing to all those that live in Hello Kitty Hell. At the end of the day, that is the last place you want to see Hello Kitty no matter how much pleasure the Hello Kitty fanatic claims that Hello Kitty brings. If this is the type of news the holiday season is going to be bringing me, it's definitely going to be the most Hello Kitty Hellish one ever…
Thanks to Noa who really should be given some unspeakable torture treatment for even having the thought that letting my wife know these existed was a good idea…
Update: It appears they are available in red and lavender as well: