Once again Hello Kitty Hell proves that it can always get worse…
You knew it had to happen eventually. If Hello Kitty fanatics were willing to place Hello Kitty heads on cats and dogs, it didn't take much of a leap to know they would eventually do it to their own babies as well: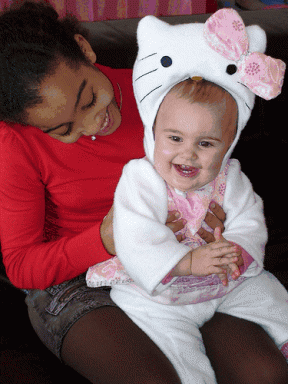 This is so obviously wrong that I don't know where to even begin. Isn't there a law somewhere that states completely humiliating your child for the rest of their life is some sort of child abuse? If there isn't, this is the perfect proof that there should be.
Of course, my wife thinks this is "the cutest thing ever" which means that I will have to endure something similar if we ever have kids. While I do worry that such antics will scar the kids for life, I'm sure that having to deal with Hello Kitty child cuteness will scar me far more since it will only fuel the Hello Kitty Hell flames taking it to a whole other level…
Sent in by Mhkitty who should be punished in unthinkable ways for putting the thought of this into my wife's mind and seeding my nightmares for the rest of the month…