It is depressing the sheer number of Hello Kitty tattoos that exist out there and doubly depressing that so many people have an uncontrollable urge to share them with me.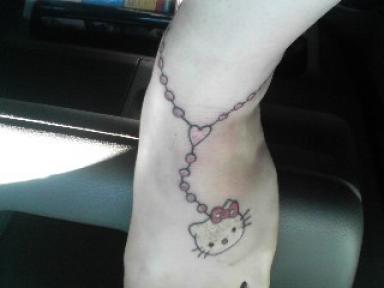 There doesn't seem anything extraordinarily "wtf" about this tattoo which is the immediate reaction when you see other Hello Kitty tattoos like the Hello Kitty Jesus tattoo (among many others). This is exactly how Hello Kitty divides and conquers all. All of a sudden an ordinary Hello Kitty tattoo doesn't seem as bad as it could be. You think that if your wife got a tattoo similar to that, at least you wouldn't have to look at a Hello Kitty Afro Samurai tattoo and you think life might not be so bad until you realize you're talking about a freakin Hello Kitty tattoo of any kind being acceptable.
I took one look at this tattoo and thought it would be a whole lot better if the chain was wrapped around Hello Kitty's neck. My wife, of course, thought it was wonderful. When I started to protest, she used the ultimate Hello Kitty fanatic weapon on me as she does so many times. "It could be worse," she said. This is an undeniable fact. It can always be worse so there is no way to disagree.
When Hello Kitty fanatics see something they want, they simply say, "but honey, it's not as bad as (fill in the blank of 100 other Hello Kitty products that are much worse)." The significant other, now thinking about the 100 other horrendous Hello Kitty products that could be coming home with him breathes a sigh of relief for a split second, and in that split second of delusion the purchase has already been made. It is the master plan of Hello Kitty world domination and why there is no escape from Hello Kitty Hell…
Sent in by Heather who should have to suffer unthinkable torture Hello Kitty tattoo for thinking for a moment that sending me this photo would be a good idea…