There are certain things that should never be created, and Hello Kitty has more than her fair share of them. You can add the Hello Kitty pedicab to the list: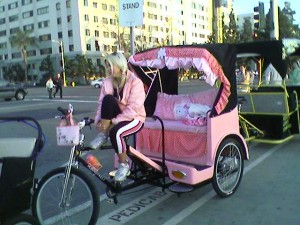 This image scares me to no end because I know exactly what would happen if I was ever to run across one of these while walking with my wife. If I happened to spot it first, I would make amazingly heroic attempts to steer us clear of the monstrosity, but in the end, it would be useless to the Hello Kitty fanatic's Hello Kitty internal radar. Somehow through a crowd of 500 people and behind a stone wall while facing the other direction, she would somehow sense that it was there. Once locked onto it, her hand would grab my arm in a vice-like grip and begin dragging me toward the doom. I would be struggling to turn us in a different direction, looking at my hand much like a trapped animal would: "should I just succumb to the eventual tortuous death or is there hope by chewing off my arm and breaking free?" At this point I would realise that chewing off my own arm would be many times less painful, but we would reach the Hello Kitty pedicab before I had the opportunity to take out the first bite.
While there are far, far too many things to list everything that is wrong with Hello Kitty, one of the worst is the notion that Hello Kitty and "romantic" can go together. Hello Kitty fanatics are bad with anything Hello Kitty, but if they feel that something Hello Kitty is also romantic, you might as well take out your Hello Kitty gun and put yourself out of misery.
The problem is that any indication that it's not romantic pretty much means a week or more on the couch in the Hello Kitty sleeping bag, but having to go along with the notion that it's romantic can be even worse. Not only do you have to get into it, you then have to pretend that you are actually enjoying yourself not only to your significant other, but to all the people looking at you with pity in the deepest part of their souls as they realize that no matter how bad their life had seemed at that particular second, it is infinitely better than yours. All you can do is look back at them and know that they are correct which once again confirms that you are living in Hello Kitty Hell…
Sent in by Amy who should have to endure the humiliation of having that be her transportation everywhere for the rest of her life for considering that sending this to me could be a good thing in any way, shape or form…