I know that things are getting bad in Hello Kitty Hell when the transformer Hello Kitty sewing machine doesn't seem quite as bad as I first thought. What could get me thinking this way? The Hello Kitty face sewing machine, of course: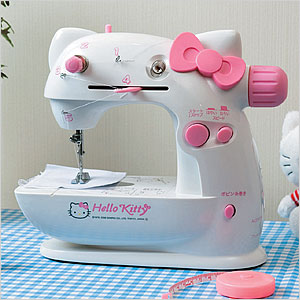 What is most frightening about this is that it appears Hello Kitty had a one night stand with Bill the Cat and this is the resulting child. Of course, my wife loves it and has added it to her list of things she wants (even though she already has a Hello Kitty sewing machine, but then again, when has that ever made a difference to a Hello Kitty fanatic?) Just your normal start of a new week in hello Kitty Hell…
Sent in by Emma (via Cláudia*~Assad) who really should have to have all her clothes made with this monstrosity for thinking it could ever be a good idea to send me this photo….
In other totally non related sewing machine news, Hello Kitty has been made "goodwill tourism ambassador" of Japan to China and Hong Kong. This is just more piece of news that proves that Hello Kitty is after world domination and something that I really don't need to know, but when 20+ people email me the story (it is becoming more and more obvious to me that many of you that read this blog have far, far too much time on your hands…), I get the feeling that Sanrio has hired some of you to make sure that the only thing that fills my email is Hello Kitty crap…
Update: Because you knew that the evil feline would have to come out with additional Hello Kitty sewing machine models: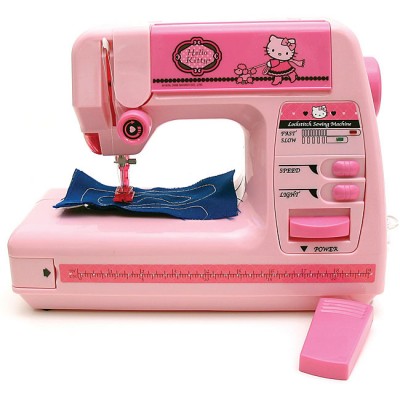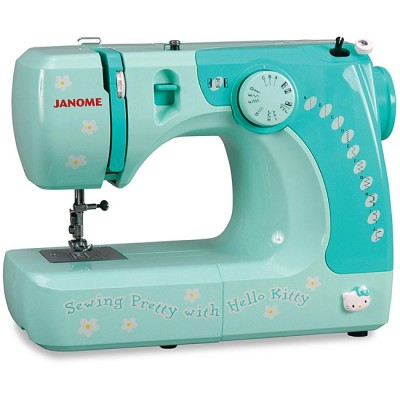 Sent in by jultritz