You would think that public transportation would have some pity on the fine folks that use their service, but that is certainly not the case — at least in Italy. It's kind of hard to imagine something ever being a bigger eyesore than a Hello Kitty pink tram, but obviously that doesn't stop the evil feline from taking over one to torture all with the hideous color: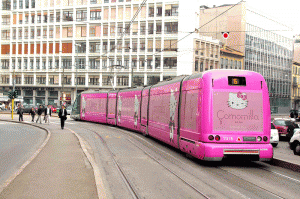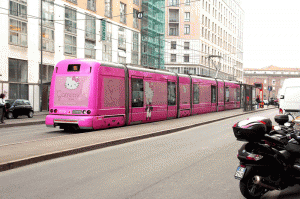 Of course, upon seeing this my wife had an uncontrollable urge to visit Italy and is insisting that this is where we should go on our next trip. Now a trip to Italy may not seem like such a bad idea to many of you, and if that is what you are saying to yourself, you have obviously never travelled with a Hello Kitty fanatic.
Not having ever been forced to suffer on a trip with a Hello Kitty fanatic, you assume that it would be an excellent chance to take in some history or magnificent sites. What you fail to understand is that the entire vacation would be spent riding the Hello Kitty tram all day with the only possible reprieve being if a Hello Kitty shop was spotted somewhere along the route.
Hello Kitty Hell vacations are almost worst that having to live in Hello Kitty Hell…
Sent in by S who deserves to have to ride that monstrosity every day of her life for thinking for even a moment that sending me these photos could ever result in something good…