It's always more than a bit scary when I open my emails with Hello Kitty photos attached because there can be something like the Hello Kitty low rise men's underwear
waiting to greet me inside: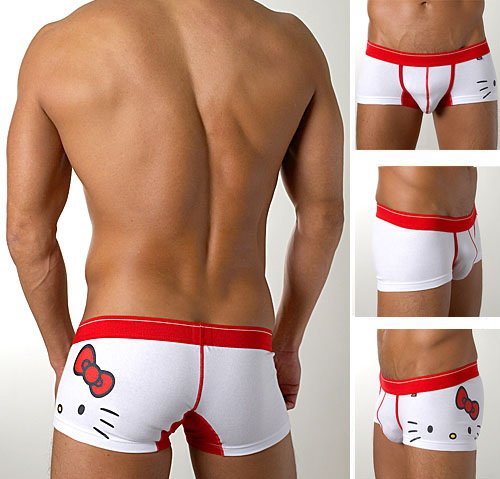 Of course, even worse than seeing something like this is having to listen to my wife's reaction to it. "Oh, those are soooo cute! You know, we really should get them and then take a photo!"
It is times like this when it actually helps to have lived in Hello Kitty Hell for a long period of time because instead of sitting there with a blank stare of unbelieving incomprehension at what the Hello Kitty fanatic had just said (which will ultimate lead to further Hello Kitty Hell doom down the road), you are able to actually translate what has just been said into language that normal people can comprehend.
In this case: "I have been a Hello Kitty fanatic so long that I fail to realize that a middle aged man with a beer gut in tight Hello Kitty underwear is not something cute, but something that could get him arrested and sent to jail for a long period of time. Even with this blind spot to my senses, I do know if I can get a photo of him in said underwear that it will be perfect blackmail material that will guarantee that I get any Hello Kitty item I want for the next 10 years."
It's not going to be a pretty sight when these arrive and it will certainly mean that new depths of Hello Kitty Hell will be reached…
Sent in by Hayley who should have to see all her men wear these monstrosities everyday for the rest of her life for thinking for even a second that sending me this photo could produce anything positive in the world…