It's nice to know that there are others out there that know the true fear that Hello Kitty should install in all of us. If you were to create the scariest dungeon imaginable, it would be a lot easier than most people imagine — simply fill it with Hello Kitty. The Simpsons agree with me: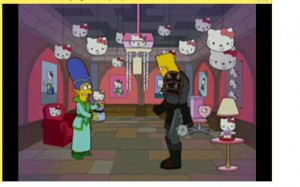 It is scenes like this that it becomes clear that Hello Kitty fanatics and normal people will never be able to bridge the gap in the reality they perceive. My wife took one look at this and loved it — she thought it would be a wonderful place to visit or live. I, like any sane person, instantly recognize this as a typical scene from my worst nightmares and the ultimate doom I'm likely to face in Hello Kitty Hell…
Sent in by Nina, who must certainly be a typical Hello Kitty fanatic (and thus is doing far more punishment to herself than I could ever wish upon her) with the question that accompanied this screenshot:
Dear Mr. Kitty Hell,

I recently read your "Where to find Hello Kitty Converse" blog and I'm still confused about the directions you've given out. I am indeed one of those whiners who want to know where to get nearly everything blogged about. If you could take the time to answer my question I would appreciate where to get the converse shoes…
The sad thing is that I still get similar questions on a regular basis — enough that I actually want them to stop bugging me. Anyone care to break the harsh Hello Kitty Hell reality and enlighten her and all those that are still confused?