Hmmmmmm. I'm not sure if Hello Kitty finally revealed her true self to the world and I was correct or if Sanrio has seen fit to develop a new Hello Kitty line about my blog in their never ending quest to Hello Kittify everything: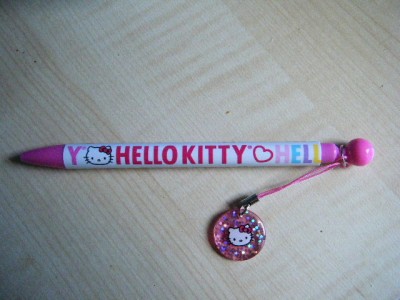 This is what came in my email:
I have always believed that you were a poor sufferer in Hello Kitty Hell. When others accused you of being a pawn of Sanrio, I used to laugh this off. I now know the truth. While you pretend to hate Hello Kitty, you are really advertising her stuff so people go and buy it.

I bought a Hello Kitty pen the other day. It has the words "Hello Kitty" written on the barrel, or so I thought. Then I noticed what was really written there. You are part of the conspiracy!
This is not a good way to begin the week in Hello Kitty Hell…
Sent in by Min who should have to suffer unthinkable torture for raising the Hello Kitty paranoia threat level to Stage 5 Red in my mind by sending this photo to me…