If you have followed the blog for any length of time, you know that I have said time and again that the evil feline is trying to take over the world. One would assume that this statement would be sufficiently broad to cover all the havoc that Hello Kitty wants to create in her never ending quest to turn everything a Pepto Bismol pink, but I now see that I have vastly underestimated her plans. Welcome to the future of space travel in the Hello Kitty spaceship: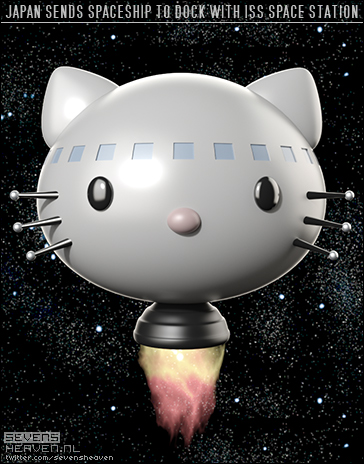 Yes, I will give you a minute to wipe the coffee off of your computer screen.
Of course, my wife absolutely loves it and would love to take a ride in it. She thinks that traveling in a Hello Kitty spaceship would be the best way to make friends with any alien life forms we may meet along the way.
I'm not so sure about this. If I was an alien civilization and there was a giant cartoon cat spaceship like this hovering over my world, I would instantly question the sanity of any species that would want to create such an abomination. My first reaction would be to blow the thing to smithereens and ask questions later. Just saying…
Who would have guessed that the depths of Hello Kitty Hell would lead to space…
Sent in by lunastar (via Sevens Heaven – Image used with permission of Sevensheaven.nl) who should be forced into space in the Hello Kitty spaceship to live the rest of her life as punishment for ever thinking that sending me this image would be a good idea.