It pains me greatly to have to write the evil feline's name each time I make a new post on this blog. The simple fact that I had to type Hello Kitty twice for the title of this post should be enough to warn you that what you are about to see isn't going to be pretty — Hello Kitty made out of Hello Kitty goods: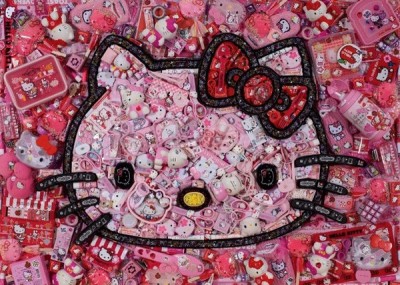 It's my wife finding stuff like this that is making me reconsider this whole twitter and facebook thing. I made the (unforgivable)assumption that by putting Hello Kitty Hell on facebook and twitter and making short photo dump posts, I would be able to dwindle the backlog of the hundreds of evil feline photos that fanatics have sent that crowd my email. As I should have anticipated, the exact opposite has happened and now I get even more photos sent to me even as I place more up. Even worse, my wife has found that searching these venues means that she can find even more Hello Kitty stuff to drool over.
The Hello Kitty Hello Kitty is a perfect case and point. She has found that searching the past tweets of people that commented to me how wonderful the evil feline is (there really is no justice in the world) often results in discoveries that she absolutely loves and then I must suffer through the rest of the day listening to why it is so wonderful.
Apparently, making Hello Kitty out of Hello Kitty crap is a fantastic and creative form of art that I just seem not to understand. This is no surprise, however, since this is often the way things are when you live in Hello Kitty Hell…
Unfortunately found by my wife from miss_island_619 who should have to live with and use all the Hello Kitty crap in that photo as punishment for ever thinking that tweeting about it could be a good idea…
Update: I really, really didn't need to see more of this, especially up close. Apparently, that is of no consequence to reader Seny that emailed these close-ups to my horror, but great joy to my wife…