Hello Kitty Hell took a major step down into the depths this past week which I never anticipated. I received an email from my parents in the US saying that a packaged addressed to a "Mrs. Hello Kitty Hell" arrived at their house and they wanted to know if I had any idea what it was about (they had no idea that I even wrote this blog). I instantly knew that whatever was going on, it was not going to be good.
After a few emails back and forth and having my parents open up the package, it was determined that some unknown person (the note inside only said "Some gifts for you" and was not signed by anyone) had sent my wife a rather large package of Hello Kitty crap, but had made the mistake of thinking that my parent's US address was our address. This makes me want to ask a couple of questions to the sender:
1. If you have been reading this blog, what on earth makes you think that my wife needs any more Hello Kitty crap?
2. Isn't it just a bit creepy and stalker-like that you decided to try and track down my address instead of just asking? (although had you asked, I would have refused to give it out)
Since there is absolutely no way I am going to let any of this stuff end up in my wife's already far too large Hello Kitty collection, it's your lucky day. I'm simply going to give away everything in the package before my wife gets a chance to lay claim to it. While I'm still trying to figure out exactly what was in the package (my parents have no idea what some of the stuff is since some of it has foreign writing on it, but they should be sending me photos shortly), there is no doubt that a Hello Kitty toaster
was part of the package. I think it is best to get rid of it as quickly as possible.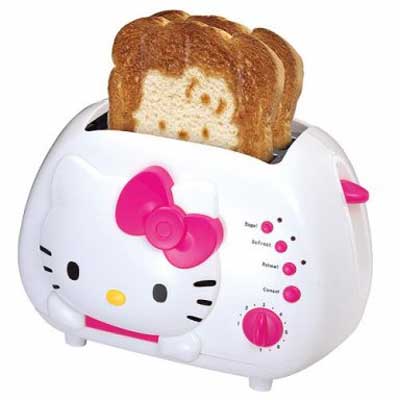 If you would like to enter the contest for the free Hello Kitty toaster, simply leave a comment below. One entry per person, so please don't leave multiple comments.
I will have a random number generated for the comments. I will have a random number generated for all the comments left below. The person's comment that matches the number will receive the toaster, which will be sent out by my parents. I will put up the rest of the Hello Kitty crap from the box once I get photos and know what it is that needs to be given away. While I truly hope that someone that dislikes the evil feline wins and then takes the time to show how they destroy the Hello Kitty toaster, even if it goes to a fanatic it is better than it landing back at my house and in my wife's collection…
The contest starts now and will end at 3:00 pm eastern (2:00 central, 1:00 mountain and 12:00 pacific) on Wednesday November 4th. Open to anyone living anywhere in the world except anyone living at my address in Japan 😉
Update: The contest has ended and we have a winner: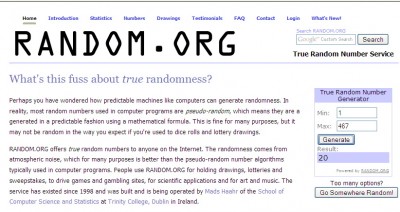 #20 on the list is Lauren who I shall be emailing shortly. Congrats and I'm happy it will be going to your house instead of mine!
Update: For all of you that lost, this little tidbit may make you feel a little better:
I recently read your blog post about your wife's mysterious toaster (weird but that's not why I am emailing you). I have a couple of small hello kitty things like some pens and a mouse pad so my friends think I love it (they should meet your wife) a lot. They bought me that same toaster from target for Christmas and a month after I got the damn thing it had an electrical malfunction and almost set my kitchen on fire! — Kerry
Then again, in you are a Hello Kitty fanatic and your house is filled with Hello Kitty crap, a fire might be the best result you could hope for…