It seems that the Hello Kitty beehive bees succumbed to the humiliation of having to be known as the Hello Kitty bees. At the time, Bill Bird was confused about why his bees were swarming even though the evidence was obvious as I explained:
The answer is simple. You're making the bees live in a freaking pink Hello Kitty bee hive and they figured it out. It would make anybody angry and want to swarm. Of course, as anyone that would think it was a good idea to build a Hello Kitty bee hive in the first place, they try to rationalize the new found aggressiveness of the bees to something else.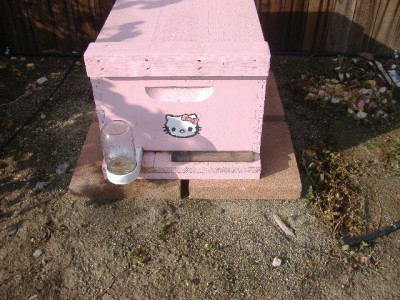 Well, it seems that the Bird family failed to calm the bees by painting over the offending beehive opting instead of thinking about giving my wife Hello Kitty Hive honey instead:
Let's just say I owe those fine folks at Hello Kitty Hell a bottle or two of Hello Kitty Hive honey, which will hopefully be available next year. I imagine the folks that actually license "Hello Kitty" will jump into the honey line as well. I can't blame them. When you've got a hit like Hello Kitty on your hands — you take advantage of it.
Realizing what was not only in store for them (a lifetime of living in a Hello Kitty Hive), but also their honey (being given to Hello Kitty fanatics as Hello Kitty Hive honey), it was all just too much. They did what any self respecting bee in such a position would do. They committed suicide to spare themselves the shame of having to live in Hello Kitty Hell.
My advice to the Bird family is to turn the Hello Kitty hive into an anti-Hello Kitty hive. Not only will the bees not commit suicide, there is a good chance that bees will be fighting for the use of the hive.