There are some combinations that just should never go together. Hello Kitty x Jesus. Hello Kitty x S&M room. Hello Kitty x Men's underwear (I could go on and on, but I would rather not have your suicide attempt traced back to this blog). Of course, Hello Kitty continually adds to this list. Case and point — Hello Kitty x chainsaw: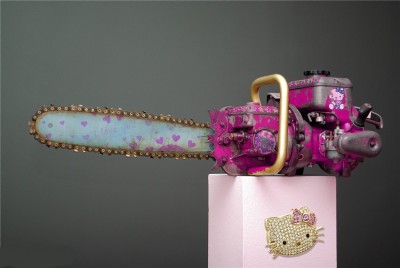 While Hello Kitty fanatics may see something like this as cute (you have to seriously feel for the lumberjack significant other that has to carry this around at work), for the rest of us it pretty much exemplifies what any horror movie villain (or the evil feline herself) would undoubtedly use to dismember victims. In fact, The Hello Kitty Chainsaw Massacre is probably already in production and is guaranteed to be the most horrifying movie that you have ever seen. Then again, getting dismembered by Hello Kitty wielding a Hello Kitty chainsaw probably would be less painful than actually having to live in Hello Kitty Hell…
Sent in by Shelly who really should have to spend all her free time cutting firewood with this thing (along with a miscellaneous Hello Kitty plush now and then which "accidentally" gets mixed in with the wood pile) as punishment for ever thinking that sending it to me could ever be a good idea.
Update: Apparently, this brings out the worst fears in everyone: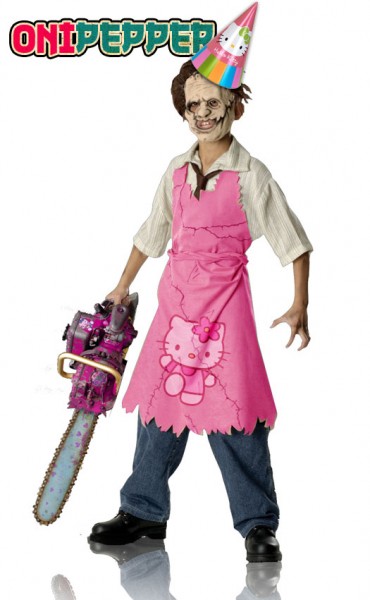 (via Onipepper)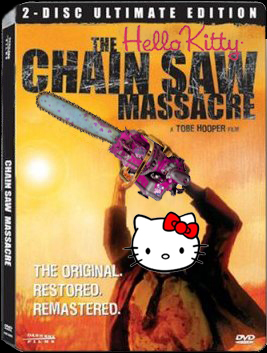 (via Mysticmaster)