You know that Hello Kitty Hell has gone way beyond reasonable when I keep getting press releases from manufacturers about their new Hello Kitty products. I was never sure exactly what they wanted me to do with them since it was obvious that a site not fond of the evil feline really wouldn't want to print the false drivel that comes in these press releases.
Then it dawned on me. They must be sending me these press releases so that I can rewrite them to accurately reflect the truth of the situation. Now that is something that I can do: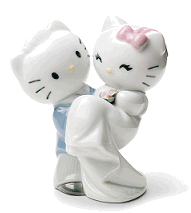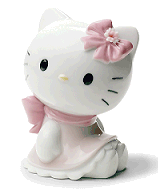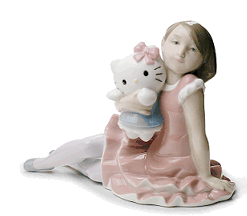 NAO, the Spanish manufacturer of handcrafted porcelain figurines (which no longer has any integrity and is willing to sell out any artistic form they claim to have to make a few bucks), launches three pieces inspired by the global icon (scourge of the world) Hello Kitty. This collection is the result of a close collaboration between NAO and Sanrio®, the global company that designs and licenses (is willing to pimp out) this well known character (to absolutely anyone and anything if they think it will earn them a buck).

Hello Kitty is world (in)famous, undoubtedly one of the most beloved (despised) characters of all time.

The unique (uninspiring) collection created by the NAO artists accurately translate into porcelain the charm of this international icon (puts together the evil feline in a way that we think it will most appeal to Hello Kitty fanatics so we can make loads of money off of them), created (spawned deep in the farthest depths of hell) in Japan more than thirty-five years ago. The three pieces in this series, Hello Kitty (Evil Feline), Playing with Hello Kitty (Coming Under the Spell of the Evil Feline) and Hello Kitty Gets Married! (Evil Feline Traps Another Poor Soul), are presented in special gift (uselessly decorated) boxes designed exclusively for them (to take more of your hard earned money)…
I simply have no idea why Sanrio doesn't hire me to do all their press releases?