One would assume that Hello Kitty had covered all the water options ( the Hello Kitty water dispenser — Hello Kitty regular bottled water — Hello Kitty premium bottled water — Hello Kitty body shaped mineral water — Hello Kitty skin water), but that would be greatly underestimating her ability to find new markets. Apparently, she felt that she was missing the luxury water market: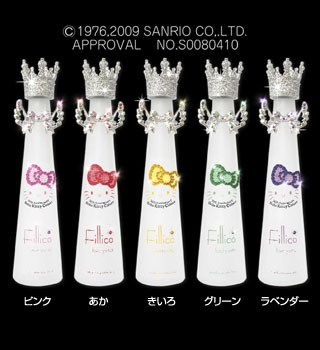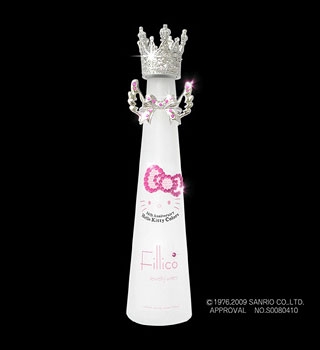 The luxury bottled water comes in five colors which represent different themes: Red (friendship), Pink (cute), yellow (heartful), green (wish) and lavender (sweet). You can buy all five for $500 or individually at $100 a pop (seriously). I guess that it is appropriate that when the heat in Hello Kitty Hell increases, the evil feline graciously provides $100 bottles of water to help put out the fire she has created…
Sent in by becky who should have to buy and drink these on a daily basis (before paying for any other expenses she has) as punishment for ever thinking it would be a good idea to let me wife know about these.