One of the worst parts of knowing someone who loves the cat-with-no-mouth is that they can't keep their fanaticism to themselves. They feel the uncontrollable desire to make everyone in their life as miserable as possible by making everything about the Sanrio character which everyone with an ounce of common sense loathes with a passion. While that in itself is painful enough for the vast majority of us living in Hello Kitty Hell, the fanatics can't leave it there (surprise, surprise). They're willing to go to any and all lengths to Kittify all those around them that can't defend themselves. Just look what happens if you're a cat of a fanatic. Or a dog. or a baby.
Of course, even this isn't as far as the fanatics will go. We already know that fanatics are willing to ink their dogs with the evil feline, so it's really a surprise that they would ink their baby with a tattoo as well?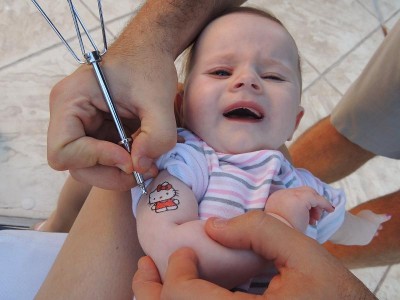 See that look of pain and anguish on the baby's face? That's a face that every person who knows a HK fanatic expresses at least once a day (and sometimes, for those who are truly unlucky and are living with a fanatic, it's permanently etched there). If you ever happen to go on a date with someone who professes a passion for Hello kitty, please remember this look because that is the look you'll be wearing far too often if your common sense doesn't kick in and you don't run as far away as possible…
Sent in by Laura Y.