This really shouldn't come as a surprise. I mean, you can already get Hello Kitty credit cards and Hello Kitty checks, so it really isn't that far of a reach to combine them together, throw in some exclusive stationary and watch the Hello Kitty fanatics come stampeding to the doors to open up a Hello Kitty bank account: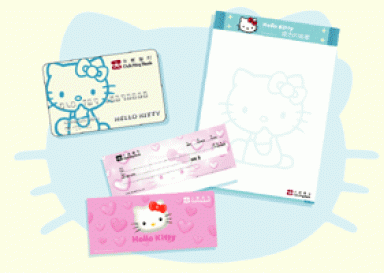 While it isn't too hard to see the irony of a savings account created by a character whose sole purpose is to separate you from your money, it still will likely be a grand success since Hello Kitty fanatics can't resist anything that's Hello Kitty. The banking account does seem to me to come with the perfectly appropriate logo for a Hello Kitty bank account: A big Hello Kitty in blue flipping you off.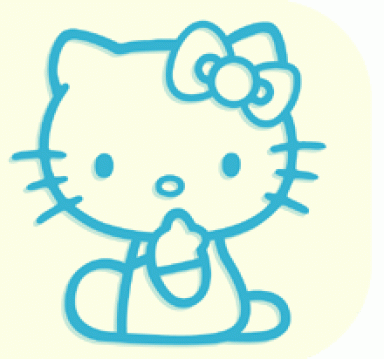 Yes, I realize that this is merely the "classic" Hello Kitty style, but it seems to me that the creators at Sanrio knew where things were going and planted a little humor into her design (or reality in the case of those of us living in Hello Kitty Hell).
So what exactly do you get for opening a Hello Kitty bank account?
Dah Sing Bank brings to you the first Hello Kitty Consolidated Account. This Hello Kitty account integrates the benefits of both a savings & checking account and you will receive all the associated Hello Kitty stationery: a unique Hello Kitty monthly statement, and an ATM card & cheque book, so you can enjoy managing your finances with Hello Kitty.

Upon opening a Hello Kitty Consolidated Account, you can enjoy a Hello Kitty statement, ATM Card and Cheque Book specially designed for fans of Hello Kitty. The ATM card will also be provided free of charge so that you can enjoy yourself while managing your finances with this adorable Hello Kitty stationery.
I'm sure that Hello Kitty will be the one enjoying herself as you manage your finances with her as she subliminally sends you messages to spend all your money on her. Of course, my wife thinks this is a wonderful idea and wishes that she could get an account like this at a bank near us which means they will likely be sprouting up left and right in the years to come. Just one more thing to look forward to in Hello Kitty Hell…
Sent in by several readers including Jennifer, hksings, dmorph and ley (via dah sing bank) who all should just turn all your money over to the evil feline right now for even thinking that showing something like this to my wife would be a good idea.