Just when you think that Hello Kitty can't possibly appear someplace more inappropriate than where she has already ventured, she once again shows that things can always get worse. It's not often that I'm sent an e-mail with a Hello Kitty product that I'm not sure if I should despise or love — that is the current internal conflict that continues to rage within me in regard to the Hello Kitty urinal target.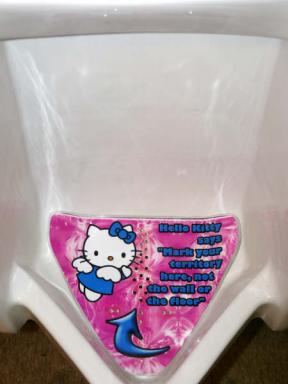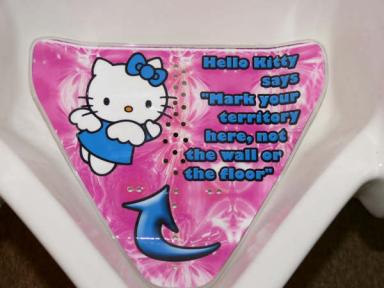 There is something that is just completely wrong about any Hello Kitty item that invades a men's bathroom which leads me to believe that I should despise this product. That being said, along with the fact that I have to see Hello Kitty every second in every other place that I go, the thought of being able to piss all over Hello Kitty (as she encourages me to do so) has quite a satisfying appeal to it and why I may be in love with this Hello Kitty product.
Of course something like this would never work at home. First off, installing a home urinal, while it would be fantastic from my point of view (and I assume any man's, really), is not something that my wife (or any other woman) is going to let happen — even if there are Hello Kitty urinal targets. On the off chance that she did, there is absolutely no way that I would ever be able to use it as intended (see Hello Kitty toilet paper).
I can already imagine if I had accidentally come across this myself. After having a few too many beers to drink, I too would wander into a bathroom to relieve myself to find Hello Kitty staring back at me out of the urinal. At that moment one of two things would happen: 1) I'd freak out with the realization that there is absolutely no escape from the evil feline and would immediately be rushed to a mental hospital. 2) I would see my chance to piss all over Hello Kitty, do so and then go back and drink as much as I could so I could do it again and again. This would eventually leave me either passed out at the bar or back at home with the worst hangover ever. Either way, I'd end up losing in the end which is pretty much par for the course when you live in Hello Kitty Hell…
Thanks to Steve who I will definitely go out and have a few beers with (and possible many more) if I'm ever in Spokane just so that I can have the pleasure of pissing on Hello Kitty while being able to justify it even to a Hello Kitty fanatic…