I live in a Hello Kitty Hell, no ifs, ands or buts about it. You may not believe it at this moment, but as this journal expands you will no doubt come to that conclusion. It will make you feel good, bring a little joy to your life, knowing that your life may have problems, but it isn't nearly as bad as living in a Hello Kitty Hell. This is the reaction that I receive from most that hear my story.
What makes it even more of a hell is that it is the result of my own doing. I have nobody to blame but myself which makes the daily torture that much more intense. I live with it because I helped to create it, I initially encouraged it and it gradually engulfed me until there was no escape…
The story has a simple beginning. My wife has always thought that Hello Kitty was cute,  purchasing an item here and there to display. When we decided to purchase a house, we decided that extra income would be a necessity to afford the place we wanted. To accomplish this, I suggested that she should take any hobby she enjoyed and we could make it into a money making venture. Her choice was Hello Kitty.
Thinking back, I should have seen the red flags waving all around me. I should have made her pick something else right then and there, but it never occurred to me that she could turn the hobby into a full fledged business. I also never imagined that one day I would have to live in a house full of Hello Kitty.
The problem was that I imagined that she would only be able to sell a few items a week to bring in a little extra cash. I mean, who would ever imagine that some people are so fanatical they would pay more than $100 for a Hello Kitty plush (that's a stuffed doll for those not into Hello Kitty collecting)? They exist and not only that, they exist in numbers which has enabled my wife to turn Hello Kitty into a profitable business. The problem is that when she discovered she could make money with Hello Kitty, her hobby greatly expanded to include practically anything Hello Kitty.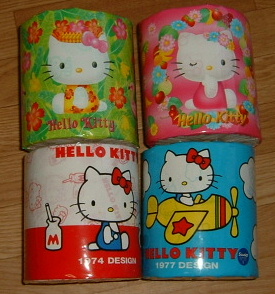 So I now find myself in a catch 22 Hello Kitty Hell. I encouraged her to turn her hobby into a money making venture so I can't really ask her to stop, but you have to start questioning if it has gone too far when you have 4 different types of Hello Kitty toilet paper to choose from in the bathroom. If 4 types of toilet paper wasn't bad enough, one of the rolls actually mocks my Hello Kitty Hell – look at pattern in the top right corner – doesn't it look like Hello Kitty is flipping me off as she winks at me?
So here I sit, trapped in cute overkill created in part by my own doing, with my only means of release being what you're reading now. Welcome to my living hell and rejoice in the fact that life will never get this bad for you…