It was bound to happen. My wife informed me that she thinks she needs a scooter to get around on the short errands around town. Of course, this sudden desire for a scooter just happened to coincide with a reader sending me this photo:
Now after seeing this, I bet you'll be surprised that I actually look at the above scooter and think, "Well maybe that wouldn't be so bad." (as you can see, Hello Kitty Hell is beginning to warp my common sense) See, when you live in a Hello Kitty Hell, even things that a normal person would consider hideous start to look acceptable when I know what else is out there that my wife would surely want even more if she only knew it existed.
Take, for example this lovely clash of Louis Vuitton seat on a Hello Kitty scooter
Or even worse, look at this pink monstrosity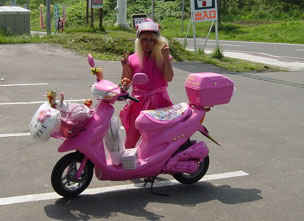 Knowing that those two scooters (and most likely others that are comparable) exist, maybe you can see why I might start imagining the top scooter is the least evil option. In Hello Kitty Hell, however, it's not that easy. Once my wife realized that there were multiple Hello Kitty scooter styles out there, it was inevitable that she would want to begin a collection and that is certainly not a new Hello Kitty hobby I want to be encouraging.
The fear doesn't stop there. If my wife gets a scooter, you know what it will mean don't you? I'll be the one that has to ride it most of the time (you can imagine how I am cringing as I write this knowing that she will also buy a Hello Kitty helmet to go with it). While she believes that she needs it to run errands, the truth is that I end up running the vast majority of them and inevitably there will be a time where I would have to ride the damn thing. It's not even reality at this time and I'm already getting sick to my stomach…
Update: The evil feline is never satisfied to leave well enough alone: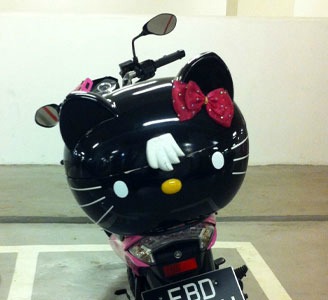 Sent in by HKGuy