I'm sure there is some underlining reason why Sanrio labels it's tests as "psycho" in their URLs (hint to Hello Kitty fanatics, it's a not so subtle message to you). Whatever the reason, Hello Kitty couldn't stop at just one psycho test, so here is another: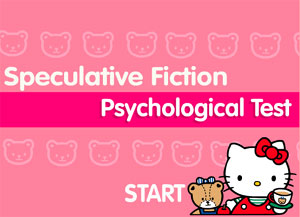 Hello Kitty Speculative Fiction Psychology Test
My theory is Hello Kitty psycho psychology tests all tell you that you are depressed so that you have a reason to buy Hello Kitty to make you happy. At least Hello Kitty thinks I'm depressed (note: spelling and grammar are Hello kitty's, not mine) :
You often look down on yourself.

You feel bad about your personality. In another word, you only see your shortcomings and ignore or your advantages. If you must expose your inner self in front of others, you find that very hard to do, and you would hate yourself. But actually, if you look from another angel, your shortcomings could be your advantages instead. For example, you think you get mad easily, but actually that's because you are very sincere and you don't hesitate to show your emotions. If you think you are weak, others probably think you are very gentle and understanding. You must look at your personality from another positive angle and be nice to yourself.
Of course, my wife sees this as yet more proof that my life is depressing because I don't accept Hello Kitty as my savior. I blame it on having to listen to the Hello Kitty theme song 24 hours a day over her new Hello Kitty speakers. Either way, it confirms that I'm living in Hello Kitty Hell…