You knew that they would show up eventually, but who knew they would be in the form of lollipops? Hello Kitty condoms: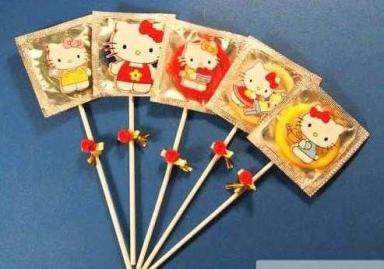 These are a quite disturbing development for reasons that should be obvious to anyone, but since Hello Kitty fanatics don't usually follow the rules when it comes to the obvious, I will expound on this a bit.
1. The last place I want to see Hello Kitty when I look down is there. In fact, just the thought of something like that occurring is sending shivers down my spine…
2. While putting anything on related to Hello Kitty goes against my better judgement, putting on something that's Hello Kitty there goes well beyond any Hello Kitty Hell I can even imagine.
3. I really can't think of anything that would be quite as unmanly as having your significant other compliment how cute "it" looks with a Hello Kitty condom wrapped around it (which is the likely reaction of a Hello Kitty fanatic).
4. When a guy puts a condom on, he pretty much has a single thought on his mind. This does not include putting on different Hello Kitty condoms as if it were a fashion show.
5. Having to stop multiple times in the middle of doing it because the Hello Kitty fanatic wants to see "how cute it is" again and again pretty much would take the joy and pleasure out of the evening.
6. Being sent to the couch in the Hello Kitty sleeping bag because I wasn't enthusiastic enough about this newest Hello Kitty item would pretty much top off the way I would expect the evening to end.
As you can see, the existence of Hello Kitty condoms is pretty much a nightmare for any guy that has a relationship with a Hello Kitty fanatic and something that definitely is going to cause the fires in Hello Kitty Hell to reach new levels…
Sent in by betty who deserves punishment far worse than even I can imagine, for even thinking that showing my wife the existence of these could in any way be a good idea…
Update: More Hello Kitty condoms: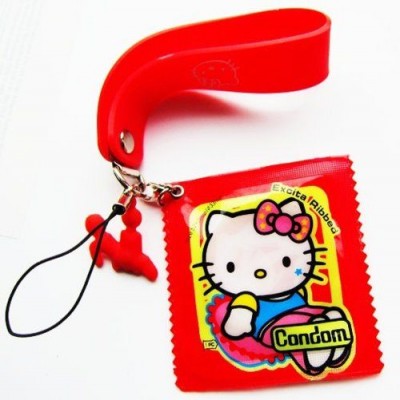 Sent in by Aurora
Flavored condoms: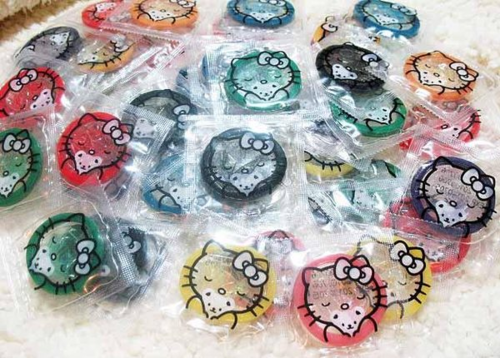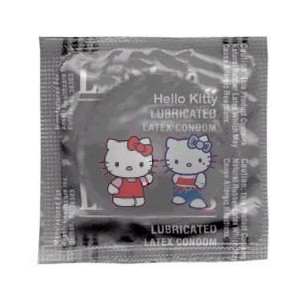 Sent in by Dave