The flow of Hello Kitty tattoos into my email box continues unabated for reasons I cannot fathom other than Hello Kitty fanatics think it is fun to nauseate me on a regular basis. The latest in the growing list is a Hello Kitty candy tattoo: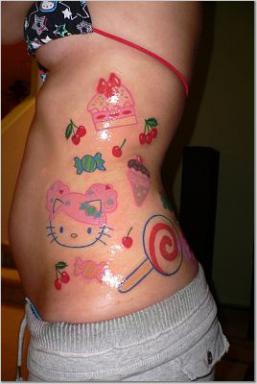 I like sweets as much as the next person, but you know when you eat too much and that sugar high quickly turns into an overwhelming feeling that all contents in your stomach should no longer be there. That is what it basically feels like to live in Hello Kitty Hell all the time making this tattoo aptly appropriate (although it would be more accurate with the vomit aftermath at the bottom).
Even worse, it doesn't look like it is going to stop here:
I went threw 6 hours of pain for this and I will do it again!! And thank you for giving me more ideas for more Hello Kitty Tattoos.
Of course, my wife loves it. "Hello Kitty is always surrounded by sweetness. How could you not love a tattoo like that?"
Let me count the ways…
Sent in by Melissa who deserves a whole lot more than 6 hours of pain for thinking it was a good idea to email this to me…