Oh, you don't think it would stop at a single Halloween costume sent to me in December, would you?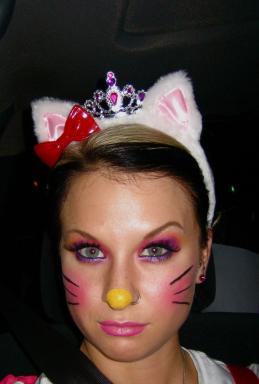 Of course not, this is Hello Kitty Hell. Once again we see Hello Kitty fanatics that are dressing up like Hello Kitty's twin sister Mimmy (you know that Hello Kitty Hell is reaching all time lows when I am lecturing Hello Kitty fanatics that they aren't dressing properly as Hello Kitty — damn, someone shoot me and put me out of my misery right now…) whether on purpose or mistake. It really doesn't matter because to anyone who sees it, it's terrifying either way…
Sent in by alison who should have to suffer a lifetime of lectures on proper fashion from the evil feline herself for even thinking it was a good idea to send this photo to me.