You know that Hello Kitty has Hello Kittified almost everything when Sanrio starts to place the evil feline on things that you can't even pronounce like the Hello Kitty aneroid sphygmomanometer: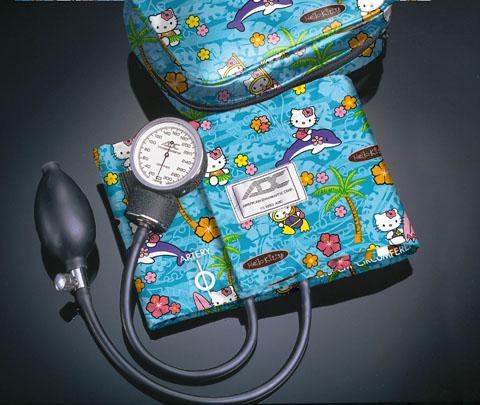 It may just be me living in Hello Kitty Hell and all, but the thought of Hello Kitty medical instruments freaks me out. When I'm in need of immediate medical attention, having Hello Kitty staring at me on all manner of medical devices will not make me feel at ease or give me any indication that I am going to be well taken care of. In fact, that thought pretty much sums up one of my worst nightmares.
Knowing the way that Hello Kitty operates, it is merely a matter of time before we begin seeing things like Hello Kitty scalpels, Hello Kitty heart monitors and even Hello Kitty artificial hearts. In fact, it would not surprise me if Sanrio has an internal business plan to start replacing human organs with Hello Kitty manufactured parts (the fact that this would also make a good horror movie only reaffirms that it is likely in the works). While the vast majority of people would cringe at such a thought, Sanrio employees are high fiving themselves in the headquarter corridors at figuring out yet another way to keep Hello Kittification going.
Of course. my wife loves this and can't understand why any hospital would want to be without one. I get the distinct feeling that one of these will soon be showing up on our doorstep and then I'll have to endure Hello Kitty blood pressure exams on a daily basis which would pretty much be the expected next step for someone living in Hello Kitty Hell…
Sent in by Sylvia who should have to undergo all kinds of horrible medical procedures with only Hello Kitty medical equipment for thinking for even a split second that any good could come of sending this photo to me…