When you live in Hello Kitty Hell, one of the worst sounds you can hear is the doorbell. That is because there is a 99% chance that whoever is ringing it is doing so with the intention of adding yet another piece to the ever growing mountain of Hello Kitty crap that has already found its way into your house. Today's doorbell ring did not disappoint.
It's already been well established that Hello Kitty has produced more than her fair share of completely useless gadgets, but it doesn't appear that this will in any way stop her from producing more. That's why it should come as no surprise that the Hello Kitty portable body fat meter exists: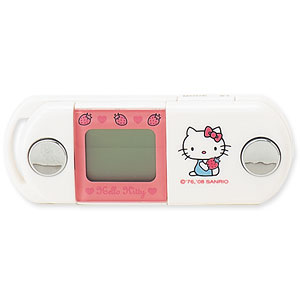 Supposedly by gently pressing on the two silver buttons with your fingers, this device will let you know your body fat. As should be no surprise, in their marketing of it they spend 90% of the time explaining how cute and fashionable it is rather than what it can actually do and this was reinforced by my wife whose squeals of "kawaiiiii" are still reverberating around the house.
This fits perfectly into the Sanrio marketing plan. Hello Kitty produces all kinds of sickly, sweet food which the Hello Kitty fanatics buy and consume so that they then need to get Hello Kitty exercise equipment so that they don't gain weight. This, of course, would be a great way to produce more income for most companies, but for Sanrio it is a major disappointment. Thus they have to invent the portable Hello Kitty fat meter (which doesn't actually work, but possesses the cuteness that Hello Kitty fanatics can't resist) so that Hello Kitty fanatics can be even more paranoid about their weight and purchase yet more Hello Kitty exercise equipment (because there is no way they are going to give up eating their Hello Kitty food). Just par for the course in Hello Kitty Hell…