It's bad enough when Hello Kitty fanatics decide to dress up as Hello Kitty (here is far more proof than anyone in their right mind would ever want to see if you need any), but by far the worst part is when the Hello Kitty fanatic decides that the significant other must also participate (see photo of horror photo 1, photo 2 and photo 3 and realize what a wonderful life you have compared to these poor guys) as part of the costume. Here is another poor soul that you can add to that list that is forced to humiliate himself at the bidding of his wife (oh, how I know how he feels…):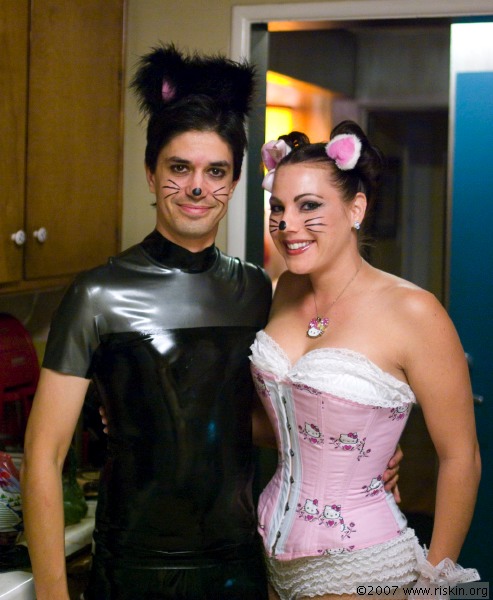 Notice the forced grin that fails to hide the tightly clinched teeth underneath and the invisible thought bubble above which undoubtedly reads something like, "please…please, I pray that none of my friends see me like this. How the hell did I ever get talked into something like this???" while the Hello Kitty fanatic is grinning from ear to ear. Yep, that is the Hello Kitty Hell I know well…
The only thing that the significant other of the Hello Kitty fanatic can now do is take photos of the Hello Kitty fanatic so that he doesn't have to actually appear in any other photos (as he tries to figure out a way to destroy the photos that have been already taken of him before they hit the Internet. This is doomed to failure and eventally it will end up on a site like this).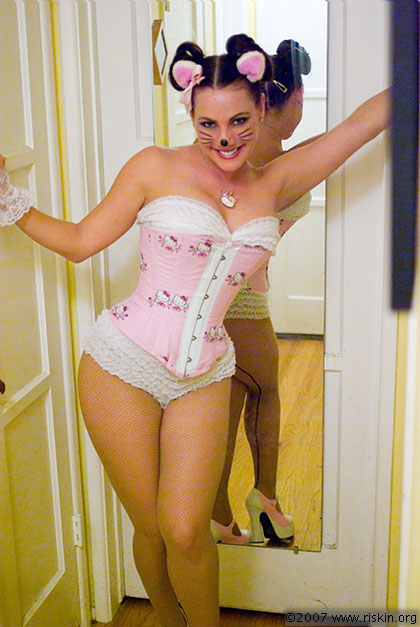 But alas, the truth even weighs down on the Hello Kitty fanatic as she unconsciously consumes alcohol in an effort to erase the psychological damage that she know she is doing to herself and those around her. Of course, if there was Hello Kitty beer, she would be doing it with that, but that's beside the point…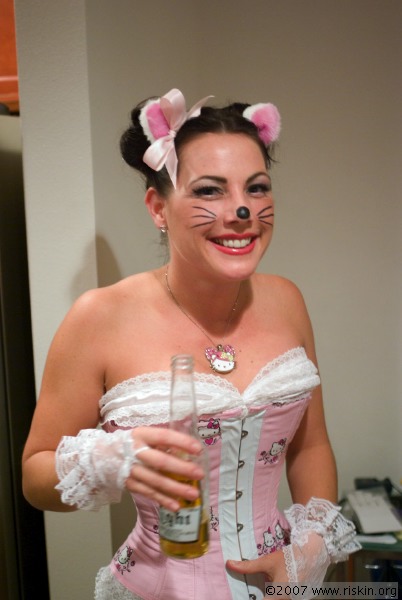 Thus you get a glimpse into the world of what Hello Kitty fanatic significant others must deal with on a daily basis. Sure makes your life look a lot brighter than it did 5 minutes ago, doesn't it…
Sent in by Jacob who obviously is already getting far more punishment than I could ever imagine wishing upon him for sending me these photos…