If there are Hello Kitty Mexican wrestling masks, there really shouldn't be any surprise that Hello Kitty pinatas also exist. I just wasn't quite expecting a Hello Kitty pinata like this when I opened the email: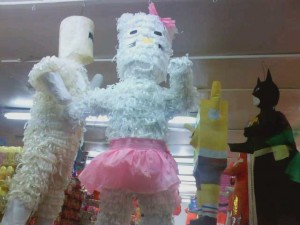 While I was expecting something a bit more on the overly cute side, I guess a zombie mummy Hello Kitty pinata is a pretty realistic way of expressing what the evil feline represents to most of us.
A Hello Kitty pinata does hold some appeal to me. If something Hello Kitty is going to be coming to my house anyway, having it be a Hello Kitty that I'm allowed to whack the crap out of definitely could provide some desperately needed stress release. Then again, Hello Kitty fanatics never allow the ones they torture to ever use the Hello Kitty items as they are supposed to be used.
Of course, my wife now wants a cute Hello Kitty pinata and immediately went to work on finding one. Let me just say that it took her less than 30 minutes to prove that there are far more Hello Kitty pinatas out there than is reasonably healthy for the world to have. Now I can look for one to soon arrive at our door to add to my wife's collection and my Hello Kitty Hell…
Sent in by Roy Van Nistelrooij who should have to suffer the same fate as a pinata on a daily basis for ever thinking that sending me a photo like this could result in something good.