I'm not sure what it is with the Hello Kitty Zombie combination, but since they have already appeared together as cakes and tattoos, I guess it really should be no surprise to find a Hello Kitty zombie bento: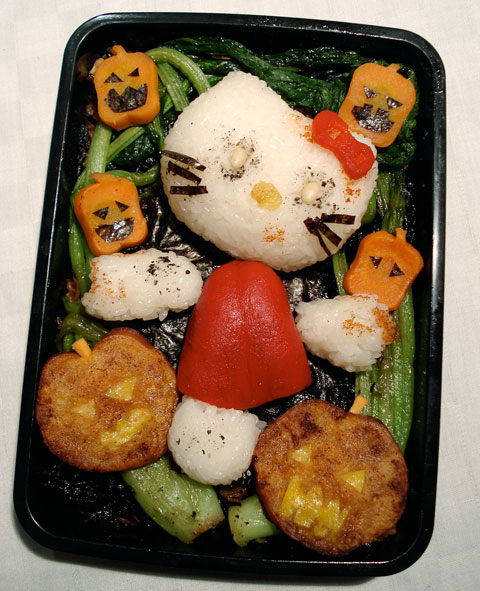 It's really discouraging when stuff like this shows up in my email because as soon as my wife sees it, she immediately thinks that it is her duty as a Hello Kitty fanatic to give it a try. Unfortunately, that means that it ends up in front of me — and while it may be good if I was on a diet or felt like sleeping in the Hello Kitty sleeping bag, that is usually not the case.
So of course my mind starts racing for ideas on why she shouldn't make it or why I won't be able to consume it. So I immediately begin to wonder if there is any chance that I can convince her that there is a law outlawing the consumption of Hello Kitty zombies on Halloween? — yep, I know. Pretty pathetic. But it just goes to show how the mind starts to work when you live in Hello Kitty Hell…
Sent in by Linda (via justbento) who really should have to eat Hello Kitty zombie bentos for the rest of the year for thinking that sending something like this to me could ever be a good idea.