In celebration of Hello Kitty's 34th birthday (kind of sad I have this information in my brain – by the way, aren't cats supposed to die after 15 years or so?) I figured I should show what the evil feline means to me…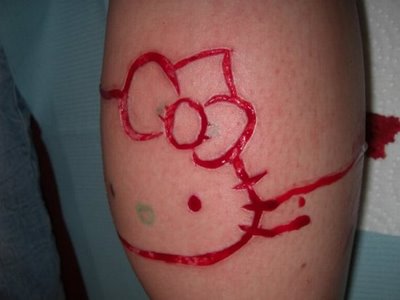 Yes, having to live in Hello Kitty Hell is like having Hello Kitty carved into your skin with a sharp object on a daily basis. Now the difference between living in Hello Kitty Hell and being a Hello Kitty fanatic is that while anyone in their right mind would consider something like this extremely painful, the Hello Kitty fanatic thinks this pain shows some type of Hello Kitty devotion and smiles through the entire process: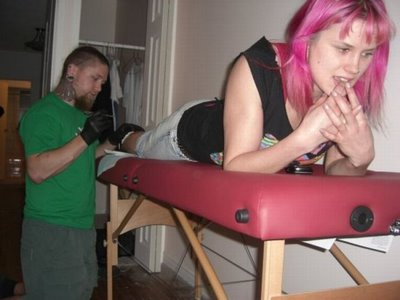 So while those like me suffer the excruciating pain, the Hello Kitty fanatics move around the same world with a dull, intoxicated smile on their face. And while most people would be ashamed to have anyone know that Hello Kitty had left any type of mark on them, Hello Kitty fanatics are proud to display that they are owned by the one with no mouth.
So that pretty much sums up what it's like to live in Hello Kitty Hell and I toast her on her birthday for giving me pain, humiliation and a lifetime of scars. And just think, next year it's bound to be even worse…
Sent in by Stacey (via A little bit of everything…) who should have to suffer this ritual herself for thinking that sending me these photos could result in anything positive…