While I hate virtually all the Hello Kitty email that I receive, I especially hate emails that give my wife ideas that she hasn't thought about before. For example, Hello Kitty hair: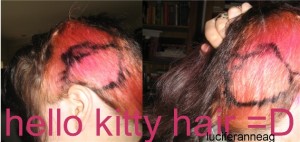 This is what ended up in my email:
Hey poor guy who has to live with a Hello Kitty fanatic that will probably be me one day and my husband will be just like you! Guess what I did?

My boyfriend cut my hair into a Mohawk for me so I bleached out the sides, dyed them pink, and stencilled Hello Kitty on them in black! It's super exciting and it's still my real hair currently and probably will be for a while.
This would be bad enough if my wife wanted to do it to herself, but upon seeing this and realising that her hair is black and mine isn't, she somehow instantly thought that this would be a good project to perform on me. While I'm willing to put up with a lot of Hello Kitty crap, having Hello Kitty dyed into my hair is not on that list.
wife: "Come on, it will be fun!" (with the Hello Kitty squeal in her voice that is supposed to denote cuteness, but in reality only confirms the true depth of Hello Kitty Hell I live in)
me: silence (trying to be as calm as any sane person can be when someone is telling you that dying Hello Kitty into your hair would be something fun to do)
wife: "You're lucky that you have light hair so you can do it. I wish I could…"
me: silence (trying my best not to contort my facial expressions to give away the pure absurdity of the comment)
wife: "Are you going to just sit there and not say anything?
me: Knowing that I should remain silent, but not being able to control the urge to say "and I suppose that you would also think it is a good idea for me to shave Hello Kitty into my hair as well…"
wife: Eyes brighten. "That's a wonderful idea!"
me: Still not knowing when to keep my mouth shut: "I was being sarcastic…"
wife: "Why can't you ever be serious when we talk about Hello Kitty. I'm trying to have a Hello Kitty moment with you."
me: Head off to the closet to get the Hello Kitty sleeping bag
There are certain instances when you live in Hello Kitty Hell when it's just better to take the medicine long before it gets to the point where you know it will eventually end up. When a Hello Kitty fanatic tells you that they want to "have a Hello Kitty moment with you," that's pretty much a clue that no matter how bad you thought a conversation was going to end when it first started, it will end up 1000 times worse if you let it continue…and simply knowing this fact is a true sign that you live in Hello Kitty Hell…
Sent in by Lucifer-Ann who should not only have to have Hello Kitty dyed in her hair for the rest of her life, but also have Hello Kitty shaved into the side of her head for thinking that for even an instant that sending me a photo like this could result in anything but me sleeping on the couch…