I know that Hello Kitty Hell has moved to an entirely new level when Hello Kitty fanatics not only want to get their tattoos on this blog, but are willing to get me in trouble with my wife to do it. There is really no other way to explain this Hello Kitty angel and devil tattoo photo: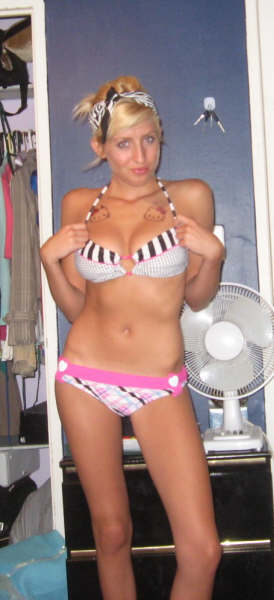 I don't know why I continue to torture myself and actually open the Hello Kitty emails sent to me. I guess there is always the faint hope that the submission will actually bring a smile to my face rather than fill me with horror. So when this email arrived, I opened it and my wife walked into the room a few seconds later:
wife: "What are you looking at?" eyebrows raised in a way that tells me I shouldn't be looking at it.
me: "It's a photo sent to me of a Hello Kitty tattoo" I say thinking this will be the end of it (yeah, right — stupid me)
wife: Eyebrows now raised more than ever. "That's a Hello Kitty tattoo?" she asks with sarcasm dripping from every word.
me: "Yes, look here. See. Right here. A Hello Kitty angel tattoo and a Hello Kitty devil tattoo" I say pointing in the general direction of the two tattoos.
wife: "…."
me "No really. Look. Look closely. See, right there" I say, pointing directly at them hoping this will somehow help stop things from going from bad to worse, but in doing so — quite unfortunately — placing my pointing finger directly on both breasts in the photo (you try pointing out those tattoos and not do the same thing). "This was sent to me to show off the two Hello Kitty tattoos…"
wife: Arms now folded, eyebrow in the highest arch possible, with a slight tapping of the foot thrown in for effect: "…."
me: Realising that I'm trapped no matter what I say and trying to turn the tables: "I thought you said that if it is Hello Kitty, then it's OK" I say and then instantly regret doing so…
wife: Both eyebrows now arched (I didn't know this was possible) with foot tapping harder and more impatiently: "…."
me: Accepting the inevitable, I walk to the closet to get the Hello Kitty sleeping bag to spend the night on the couch…
Sent in by Kayla who deserves unthinkable punishment beyond her Hello Kitty tattoos for imagining that sending me this photo would not only be a good idea, but also not get me in serious trouble with my wife…