It's never a good day when a celebrity is caught showing off some type of Hello Kitty product and then that photo is sent to me. In the mind of the Hello Kitty fanatic, this somehow legitimizes Hello Kitty. This is my wife's reasoning — if Anna Paquin is riding around on her Hello Kitty beach cruiser, that must mean that Hello Kitty beach cruisers are cool because even the celebrities want to ride around on them: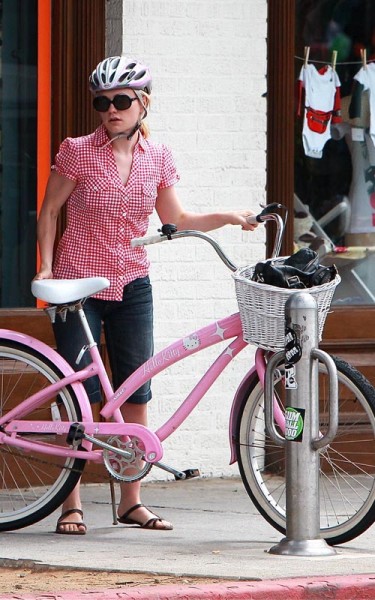 That is not exactly the way that I view the entire incident. More likely, Sanrio gave Anna Paquin the Hello Kitty beach cruiser to ride around on so that Hello Kitty and Anna Paquin fanatics will see this and think that Anna Paquin thinks Hello Kitty is cool and therefore that celebrities think Hello Kitty is cool. They will then go out and buy that Hello Kitty beach cruiser and line Sanrio's pockets.
It's already started to work as my wife once again thinks it's time for us to get a matching pair of Hello Kitty beach cruisers (something that we have already been through before and I had thought had long been settled — and of course the Hello Kitty bike tires need to be included as well).
She feels that since a celebrity likes the Hello Kitty beach cruiser, this will somehow convince me it's now a good idea to buy them. Welcome to the latest addition to Hello Kitty Hell which I'm sure I'll be hearing about it for the rest of the year…
Sent in by renee who really should be run over by a Hello Kitty beach cruiser with Hello Kitty tires until Hello Kitty is imprinted all over her skin as punishment for ever thinking that sending this to me would produce anything but more heat in Hello Kitty Hell…