I would much prefer to not get anything Hello Kitty emailed to me, but if it is going to happen, artwork that shows the true side of the evil feline is much better than the sickly sweet stuff that makes up most of what crosses my path. I would have to say the Hello Kitty demon is one of those pieces of artwork that shows what's really under that "cute" exterior: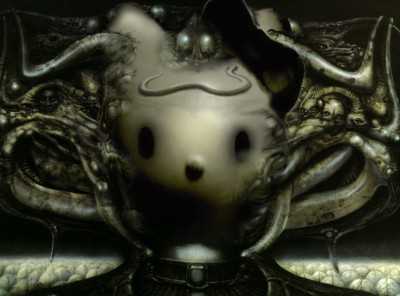 When you finally see the true Hello Kitty, you wonder how you never realised that her eyes are really nothing more that black holes that suck any light a person has into their swirling vortex so that it can never escape. Of course, this realization makes perfect sense since it's a typical daily feeling when you live in Hello Kitty Hell…
Sent in by devon who I should either buy a beer for sending me something that shows the true Hello Kitty or should be forced to look into Hello Kitty's eyes each and every day for thinking that sending me anything Hello Kitty would be a good idea…the jury is still out.